Andrographis
An annual herbaceous plant that can reach 1 metre in height - Hairless, lance-shaped and pinnate - Small, white or pale pink flowers with touches of brown or purple - Numerous seeds in elongated pods.
Latin name
Andrographis paniculata
Origin
Plains of India, particularly Sri Lanka, China and South East Asia - Adapts to different habitats and has been introduced into Western Africa, among other regions - Extensively cultivated in China, Thailand and India.
Used part
The aerial parts.
Active components
Andrographolide This substance is responsible for the hepatoprotective effect but also for the anti-inflammatory, antioxidant and anti-chill action.
Usage
Andrographis has been known and used in traditional Chinese and Ayurvedic medicine for a very long time. For centuries, it has been used to treat digestive system disorders, respiratory tract infections, fever and a variety of chronic and infectious diseases. Andrographis is currently used for respiratory disorders such as a cough and to naturally soothe the throat. 1-7 It supports the immune system thanks to its powerful antioxidant action and the modulating effect of the immune system. 8-11 Recent studies have shown that the "Kan jang" complex (the combination of andrographis with eleutherococcus) can successfully be used in a natural approach to winter ailments. 12-19  
Bibliographical references
45 tablets (6/day)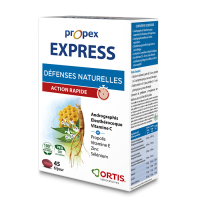 ---
Andrographis and Siberian ginseng increase the body's resistance  Andrographis improves breathing comfor
...
60 tablets (2/day)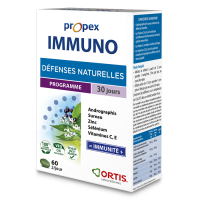 ---
Andrographis and elderberry strengthen natural defences. Vitamin C, zinc and selenium support normal immun
...
The health claims that feature on our website in relation to the plants contained in our products are compliant with the list of health claims awaiting final assessment by the Community authorities (cf. website of the European Commission: http://ec.europa.eu/nuhclaims/). However, they may be subject to modification following their assessment by the national competent authorities.
The health claims relating to other nutrients or substances contained in our products that feature on our site are compliant with Regulation No. 432/2012 of the Commission of 16 May 2012 which establishes a list of authorised health claims authorised in relation to food products, other than those in reference to the reduction of the risk of disease as well as community-based development and child health (cf. website of the European Commission: http://ec.europa.eu/nuhclaims/).