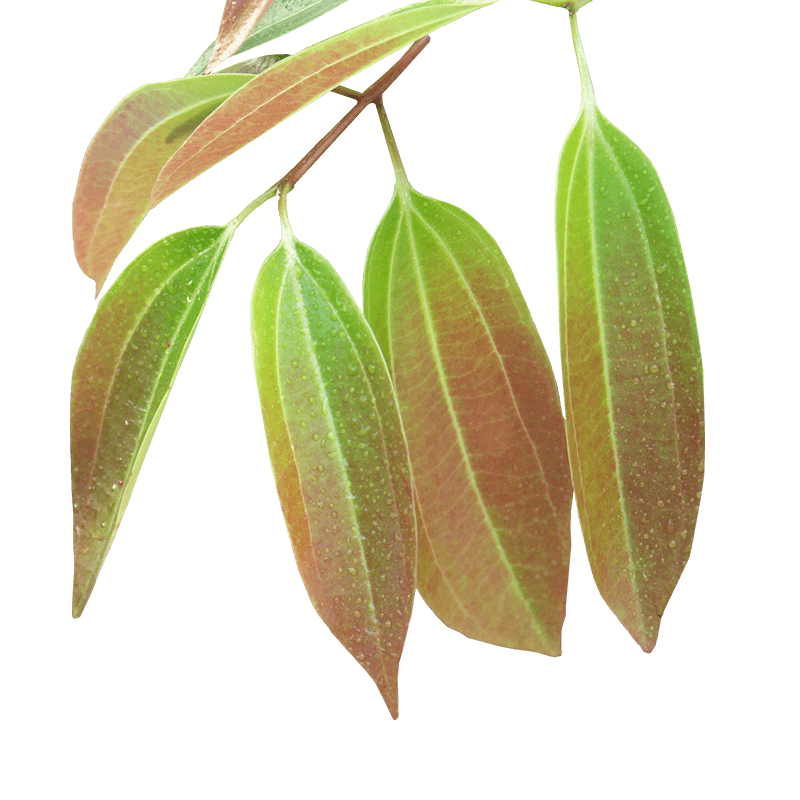 Cinnamomum aromaticum or cassia
A tree measuring approximately 10 metres in height. Its opposite, oblong to lance-shaped leaves are quite long, have a tough consistency and are slightly downy on the underside. The white to yellowish-coloured flowers are small and are grouped in inflorescences - The fruit is small spherical red drupes.
Latin name
Cinnamomum aromaticum ou cassia
Active components
Essential oil (cinnamaldehyde): stimulates the appetite and digestion and has a carminative and spasmolytic effect. It is also antibacterial, antiviral and antifungal.
Tannins (OPC): have an antioxidant and glucose-lowering action.
Usage
Cinnamon is a warming spice, well known in oriental cuisine, but it has also been used for thousands of years in traditional phytotherapy. Cinnamon-based preparations are used to treat anorexia, bloating, nausea, dyspepsia, colic and intestinal cramps. Thanks to its antiseptic properties, it is also used as an ingredient in toothpaste. Essential oil is used in certain perfumes and liqueurs. Cinnamon stimulates the appetite, improves the digestion of fats and is involved in carbohydrate metabolism. It contributes to digestive comfort. 1-6 It has stimulating properties that contribute to resistance to mental and physical fatigue. 7.8
Bibliographical references
The health claims that feature on our website in relation to the plants contained in our products are compliant with the list of health claims awaiting final assessment by the Community authorities (cf. website of the European Commission: http://ec.europa.eu/nuhclaims/). However, they may be subject to modification following their assessment by the national competent authorities.
The health claims relating to other nutrients or substances contained in our products that feature on our site are compliant with Regulation No. 432/2012 of the Commission of 16 May 2012 which establishes a list of authorised health claims authorised in relation to food products, other than those in reference to the reduction of the risk of disease as well as community-based development and child health (cf. website of the European Commission: http://ec.europa.eu/nuhclaims/).