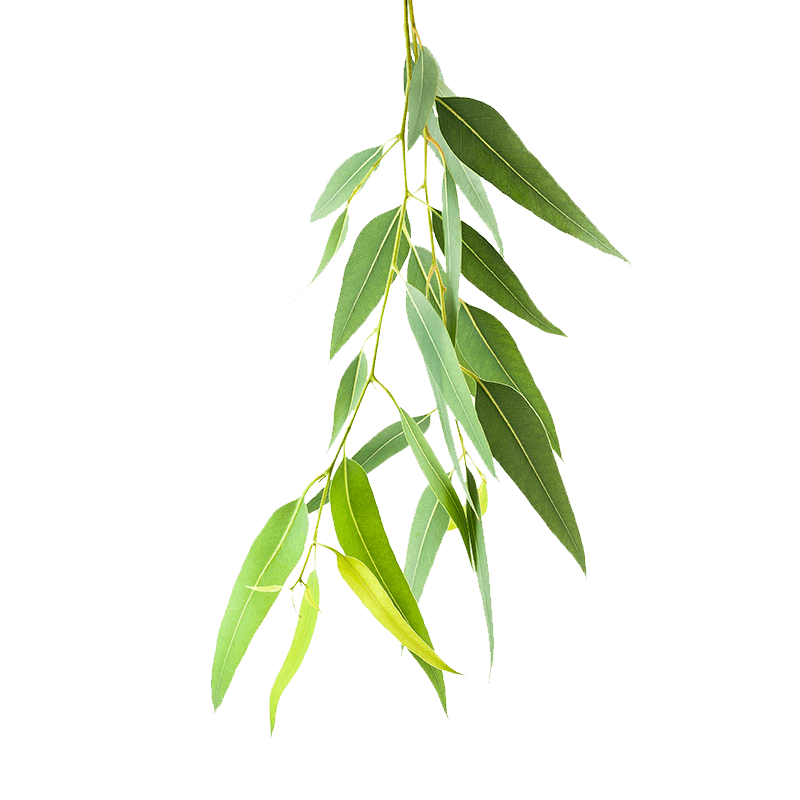 Lemon eucalyptus
The essential oil from the leaves.
Latin name
Eucalyptus citriodora Hook
Origin
Monoterpenoids (citronellal): responsible for the lemon fragrance, analgaesic and anti-inflammatory effect. It is also antibacterial and antifungal.
Used part
Lemon eucalyptus leaves have long played an important role in the traditional medicine of the indigenous Australians. In Brazil also because, for example, the hot water extract of the dried leaves is traditionally used as an anti-inflammatory, analgaesic, and anti-fever agent, but also to treat respiratory infections, chills, sinus congestion and rheumatic conditions.1-15
This tree plays an important role in the production of honey by bees. The leaves, which release a delicious lemon fragrance, are also frequently used in potpourri.
Citronellal, the most important component of the essential oil appears to be effective in keeping away mosquitoes thanks to its insect repellent properties.16 The essential oil from the leaves, used in many perfumes, is also used throughout the world to relieve coughs, colds, sore throats and other infections.
Bibliographical references
The health claims that feature on our website in relation to the plants contained in our products are compliant with the list of health claims awaiting final assessment by the Community authorities (cf. website of the European Commission: http://ec.europa.eu/nuhclaims/). However, they may be subject to modification following their assessment by the national competent authorities.
The health claims relating to other nutrients or substances contained in our products that feature on our site are compliant with Regulation No. 432/2012 of the Commission of 16 May 2012 which establishes a list of authorised health claims authorised in relation to food products, other than those in reference to the reduction of the risk of disease as well as community-based development and child health (cf. website of the European Commission: http://ec.europa.eu/nuhclaims/).