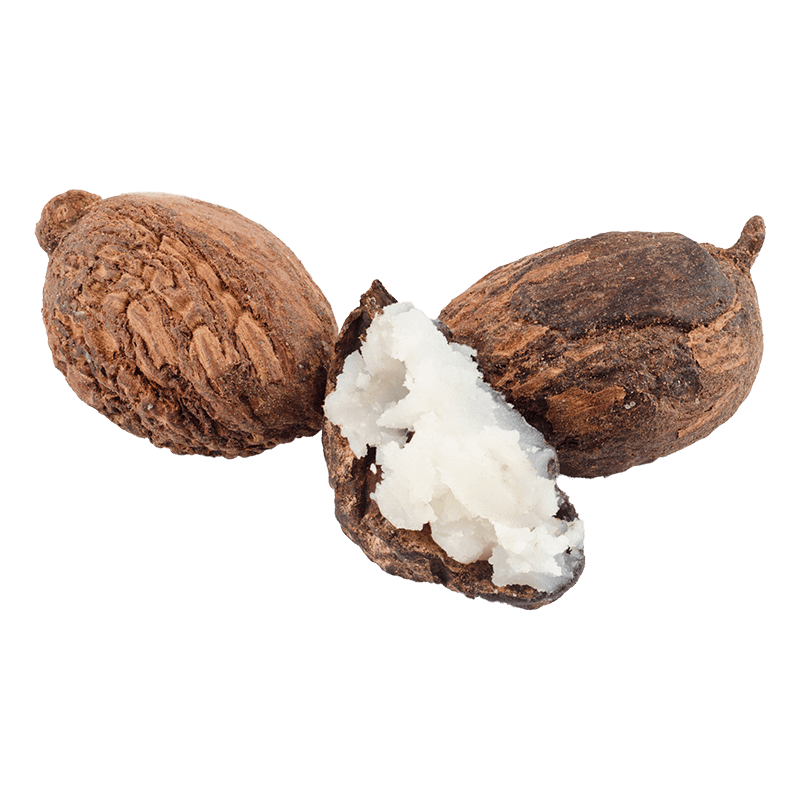 Shea
Shea is a wild tree measuring between 10 and 15 metres in height. It takes 15 years to bear its first fruit. Its leaves are elongated and ovoid. Its fleshy, edible fruit resembles a small avocado with sweet flesh. It contains a seed (sometimes two) with a high fat content (around 50%), which is also edible, and is surrounded by a thin husk Precious shea butter is extracted by grinding the nuts in a press at a temperature not exceeding 80°C. This mechanical, cold press method does not allow all of the butter held in the nut to be extracted, but allows the best quality butter to be processed, preserving the active ingredients.
Latin name
Butyrospermum parkii (G.Don) Kotschy
Active components
Triterpene esters (α-amyrin, butyrospermol, lupeol): antioxidant and anti-inflammatory action that protects the skin against UV-B rays and premature ageing.
Phytosterols (campesterol, stigmasterol and β-Sitosterol): anti-inflammatory action. Phenolic component (cinnamic acid): antioxidant. The phenolic profile is similar to that of green tea.
Tocopherols (vitamin A): antioxidant.
Fatty acids (stearic and oleic acid): the stearic acid content lends shea butter its solid consistency, while the percentage of oleic acid influences how creamy it is.
Usage
Shea butter is widely used in cooking throughout Africa. It is an important source of dietary fatty acids. It has also been used for centuries for its skin healing benefits and for its protective properties. Traditionally, it was used to treat rheumatic conditions. Thanks to its wealth of nutritious substances, it is used as a cooking fat and as an ingredient in margarine, spreads, confectionary and chocolate. Shea butter is frequently used in the manufacture of soap and cosmetics, for its soothing, hydrating, anti-inflammatory and protective action.
Bibliographical references
The health claims that feature on our website in relation to the plants contained in our products are compliant with the list of health claims awaiting final assessment by the Community authorities (cf. website of the European Commission: http://ec.europa.eu/nuhclaims/). However, they may be subject to modification following their assessment by the national competent authorities.
The health claims relating to other nutrients or substances contained in our products that feature on our site are compliant with Regulation No. 432/2012 of the Commission of 16 May 2012 which establishes a list of authorised health claims authorised in relation to food products, other than those in reference to the reduction of the risk of disease as well as community-based development and child health (cf. website of the European Commission: http://ec.europa.eu/nuhclaims/).