Echinacea/Rode zonnehoed
Vaste plant met een stevige, vertakte stengel en een vrij ruwe textuur (behaard). Afhankelijk van zijn biotoop kan hij tussen 60 en 150 cm hoog worden – Gesteelde of bijna ongesteelde bladeren afhankelijk van hun stand onderaan de stengel of hoger op de plant - De bloem heeft een lange steel en de vorm van een 'kleine zonnehoed', met een bolvormig hart in de vorm van een donkerrode of oranje kegel, die bijzonder hard en scherp is als een egeltje, vandaar ook zijn naam (Echinos).
Latijnse naam
Echinacea purpurea (L.) Moench
Actieve bestanddelen
Polysachariden, fenolische verbindingen (cafeïnezuur, cichoreizuur) en alkylamiden: deze stoffen hebben een bewezen antiseptische, immunomodulerende en ontstekingsremmende werking.
Gebruik
Echinacea angustifolia wordt traditioneel gebruikt door de Noord-Amerikaanse indianen: ze gebruiken de wortel tegen slangenbeten, hoest, hoofdpijn of als algemene pijnstiller.
Waarschijnlijk werd in het begin van de 20ste eeuw de verkeerde plant, namelijk de Echinacea purpurea, naar Europa gebracht en gebruikt voor de preventie en behandeling van verkoudheden. Wetenschappelijke studies over de verschillende echinaceasoorten (over de delen van de plant, de verschillende extracten en de gebruikte concentraties) werden vergeleken. De resultaten waren verwarrend en onduidelijk, waardoor de onderzoekers hun vertrouwen in de doeltreffendheid van de 'Echinacea' verloren.
Toch tonen klinische studies aan dat de Echinacea purpurea de werking van het immuunsysteem doeltreffend kan ondersteunen.1-7 De plant kan preventief worden genomen om infecties aan de bovenste luchtwegen te voorkomen8-10 en om de mond en de keel te helpen verzachten.11-24
100 ml
Bevat alcohol: 60%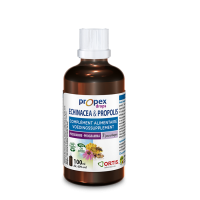 ---
Een preventief programma op basis van alcoholische extracten van Echinacea en Propolis, ter ondersteuning va
...
De gezondheidsclaims voor planten die in onze producten voorkomen, staan op een lijst van gezondheidsclaims in afwachting van een definitief standpunt van Brussel (cf. website van de Europese Commissie: http://ec.europa.eu/nuhclaims/). Ten gevolge van hun behandeling door de nationale overheden, kunnen hierin wijzigingen optreden.
De gezondheidsclaims van andere voedingsmiddelen of bestanddelen in onze producten zijn conform aan het Reglement N° 432/2012 van de Commissie van 16 mei 2012, die een lijst opmaakt van de toegelaten gezondheidsclaims ivm voedingsmiddelen, die niet verwijzen naar de vermindering van ziekterisico's, de ontwikkeling van ziektes en de gezondheid van kinderen (cf. website van de Europese Commissie: http://ec.europa.eu/nuhclaims/).