Siberische ginseng
Doornige struik van 2 tot 3 m die de gemengde bossen buiten de geografische grenzen van de Panax ginseng koloniseert, omdat hij koudere klimaten verdraagt - Handvormige samengestelde bladeren met een lange bladsteel - De bloemen staan in bolvormige schermen. De mannelijke zijn paars, de vrouwelijke geelachtig - Vrucht: zwarte bessen.
Latijnse naam
Eleutherococcus senticosus (Rupr. & Maxim.) Maxim.
Actieve bestanddelen
Eleutherosiden: een complexe groep bestanddelen (lignanen, sterolen, cumarinen, saponinen, ...) die verantwoordelijk is voor de adaptogene, stimulerende, zenuwbeschermende, leverbeschermende en oxidatieremmende werking. Polysachariden: versterken het immuunsysteem. Polyfenolen: antioxidanten
Gebruik
In de traditionele Chinese geneeskunde wordt de Eleutherococcus of 'Ci-wu-jia' gebruikt als middel tegen bronchitis, hartstoornissen, leverziekten en reuma. Daarnaast wordt de plant regelmatig ingezet om de vitaliteit, de algemene gezondheid, het geheugen en de eetlust te ondersteunen.
De eleutherococcus is rijk aan antioxidanten en draagt zo bij tot de weerstand tegen oxidatieve stress.1-5 Tegelijkertijd versterkt hij het immuunsysteem en de weerstand en is hij dus effectief tegen verkoudheid.6-15 Recente studies hebben aangetoond dat het complex 'Kan jang' (de combinatie van Andrographis met Eleutherococcus) met succes kan worden aangewend bij de natuurlijke behandeling van winterkwalen.16-23
45 tabletten (6/dag)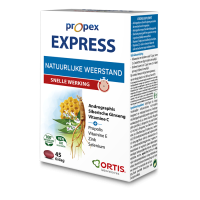 ---
Andrographis en siberische ginseng versterken de weerstand van het organisme Andrographis vergroot het adem
...
De gezondheidsclaims voor planten die in onze producten voorkomen, staan op een lijst van gezondheidsclaims in afwachting van een definitief standpunt van Brussel (cf. website van de Europese Commissie: http://ec.europa.eu/nuhclaims/). Ten gevolge van hun behandeling door de nationale overheden, kunnen hierin wijzigingen optreden.
De gezondheidsclaims van andere voedingsmiddelen of bestanddelen in onze producten zijn conform aan het Reglement N° 432/2012 van de Commissie van 16 mei 2012, die een lijst opmaakt van de toegelaten gezondheidsclaims ivm voedingsmiddelen, die niet verwijzen naar de vermindering van ziekterisico's, de ontwikkeling van ziektes en de gezondheid van kinderen (cf. website van de Europese Commissie: http://ec.europa.eu/nuhclaims/).