Ginkgo
Bladverliezende boom. Hij is uniek onder de zaadplanten omdat zijn bladeren, in tegenstelling tot de grote meerderheid van de hedendaagse planten, twee waaiervormige lobben zonder middennerf hebben. Ze hangen in groepjes van 3 of 4 bij elkaar aan de bladsteel op de takken en worden 5 tot 15 cm lang - De boom heeft een middelgrote tot grote omvang en kan 20 tot 35 m hoog en 1250 jaar oud worden. De ginkgo is een potentieel onsterfelijk levend wezen: hij heeft geen natuurlijke vijanden, parasieten of ziekten. De enige mogelijke schadelijke externe factoren zijn de mens en bedreigingen van de aarde of het klimaat.
Latijnse naam
Ginkgo biloba L.
Afkomst
De gekweekte soort komt van nature voor in het zuidoosten van China (de wilde variant is nagenoeg volledig verdwenen). Van daaruit kwam de boom rond de 12de eeuw naar Japan en Korea. Het is de oudste bekende boomsoort; hij bestaat al langer dan 270 miljoen jaar!
Actieve bestanddelen
Terpeenlactonen (ginkgoliden, bilobaliden): hebben een neurobeschermende werking en verbeteren de hersenfuncties. Flavonoïden: dragen bij tot de oxidatieremmende werking.
Gebruik
De Japanse notenboom werd om religieuze redenen bij Japanse tempels gekweekt. Vandaag wordt hij vaak in parken en straten geplant omdat hij bijzonder goed bestand is tegen luchtvervuiling en ziekten, omdat hij traag groeit en natuurlijk ook omdat hij in het najaar buitengewoon mooi goudgeel kleurt.
In het Verre Oosten worden de geroosterde zaden gegeten tijdens speciale gelegenheden zoals bruiloften en vanwege hun vermeende lustopwekkende eigenschappen.
Ginkgo biloba wordt al duizenden jaar gebruikt in de traditionele volksgeneeskunde. Vandaag is hij een van de belangrijkste planten in de fytotherapie. Hij verhoogt de prestaties, het geheugen en het reactievermogen, onder andere omdat hij de bloedcirculatie in de hersenen verbetert.1-7 Hij draagt bij tot het algemeen welzijn, vooral in tijden van stress.8-11 Dat geldt vooral voor mensen vanaf 45 jaar.12-20 Onder meer dankzij zijn krachtige oxidatieremmende werking+I37 heeft de Japanse notenboom een beschermend effect op het zenuwstelsel.21-26
36 tabletten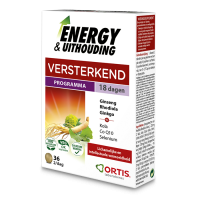 ---
Een synergie van drie planten en spoorelementen om energie te herwinnen een uw batterijen terug op te laden
...
60 tabletten ---
Diens synergie van ingrediënten van natuurlijke oorsprong is de ideale oplossing voor studenten vóór en tij
...
De gezondheidsclaims voor planten die in onze producten voorkomen, staan op een lijst van gezondheidsclaims in afwachting van een definitief standpunt van Brussel (cf. website van de Europese Commissie: http://ec.europa.eu/nuhclaims/). Ten gevolge van hun behandeling door de nationale overheden, kunnen hierin wijzigingen optreden.
De gezondheidsclaims van andere voedingsmiddelen of bestanddelen in onze producten zijn conform aan het Reglement N° 432/2012 van de Commissie van 16 mei 2012, die een lijst opmaakt van de toegelaten gezondheidsclaims ivm voedingsmiddelen, die niet verwijzen naar de vermindering van ziekterisico's, de ontwikkeling van ziektes en de gezondheid van kinderen (cf. website van de Europese Commissie: http://ec.europa.eu/nuhclaims/).