Hibiscus
Hibiscus is een grote struik die tot vijf meter hoog kan worden. De afwisselend geplaatste, enkelvoudige, ovale of lancetvormige bladeren hebben een gekartelde of gegolfde bladrand. De alleenstaande of in bloemtrossen gegroepeerde een- of tweekleurige bloemen zijn ineengedraaid voor ze volledig opengaan, en bloeien van maart tot oktober. De doosvruchten verspreiden wanneer ze rijp zijn de vaak behaarde zaden.
Latijnse naam
Hibiscus sabdariffa L.
Afkomst
Wordt geteeld in Egypte en Zuidoost-Azië. Geïmporteerd in Europa en Amerika.
Actieve bestanddelen
Organische zuren (citroenzuur, appelzuur en wijnsteenzuur): hebben een zure smaak en zijn natuurlijke bewaarmiddelen.
Anthocyanidinen: zijn verantwoordelijk voor de dieprode kleur, het ontstekingsremmende effect en de krachtige antioxiderende werking. Ze hebben een bloeddrukverlagende werking, door hun functie als inhibitoren van het angiotensine I converterend enzym (ACE), en een cholesterolverlagende werking.
Vitamine C en carotenoïden: antioxidanten.
Gebruik
De groene bladeren worden in de Aziatische keuken gebruikt als een pittige versie van spinazie of in soep.
De bloemkelken worden rauw gegeten in slaatjes, maar kunnen ook worden gekookt en gebruikt als aroma in taart of jam.
Gedroogd worden de bloemkelken gebruikt als ingrediënten voor siroop, frisdrank en zelfs een soort bier.
Hibiscus kan warm of koud worden gedronken als kruidendrank. De smaak doet denken aan die van veenbessen. Het dorstlessende effect en de lekkere smaak worden wereldwijd op prijs gesteld. Hibiscus is bovendien rijk aan vitaminen en mineralen.
Door de aanwezigheid van plantaardige kleurstoffen wordt de plant ook gebruikt als natuurlijke kleurstof voor levensmiddelen.
De vezel van de plant kan worden gebruikt voor de productie van jute en papier.
In de volksgeneeskunde werd hibiscus gebruikt als vochtafdrijvend en licht laxerend middel, en voor de behandeling van hart- en zenuwaandoeningen. De plant wordt ook geacht over bloeddrukverlagende eigenschappen te beschikken. Hibiscus is verder een populair geneesmiddel tegen abcessen, galproblemen, hoesten, scheurbuik en aandoeningen van de urinewegen. Bovendien kan de plant bogen op stimulerende en tonische eigenschappen die bijdragen tot een betere weerstand tegen mentale en fysieke vermoeidheid.
Vandaag is er wetenschappelijk bewijs voor de werking op de nierdrainage1-4, de bijdrage aan een goede bloedcirculatie in de haarvaten en de verlichting van het gevoel van zware benen.5-20
7 flesjes x 15 ml (7 dagen)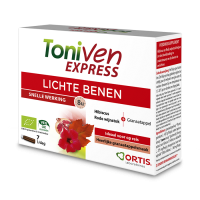 ---
Een Bio-oplossing voor lichte benen, met een heerlijke granaatappelsmaak Rode wijnstok en hibiscus bevatten
...
De gezondheidsclaims voor planten die in onze producten voorkomen, staan op een lijst van gezondheidsclaims in afwachting van een definitief standpunt van Brussel (cf. website van de Europese Commissie: http://ec.europa.eu/nuhclaims/). Ten gevolge van hun behandeling door de nationale overheden, kunnen hierin wijzigingen optreden.
De gezondheidsclaims van andere voedingsmiddelen of bestanddelen in onze producten zijn conform aan het Reglement N° 432/2012 van de Commissie van 16 mei 2012, die een lijst opmaakt van de toegelaten gezondheidsclaims ivm voedingsmiddelen, die niet verwijzen naar de vermindering van ziekterisico's, de ontwikkeling van ziektes en de gezondheid van kinderen (cf. website van de Europese Commissie: http://ec.europa.eu/nuhclaims/).