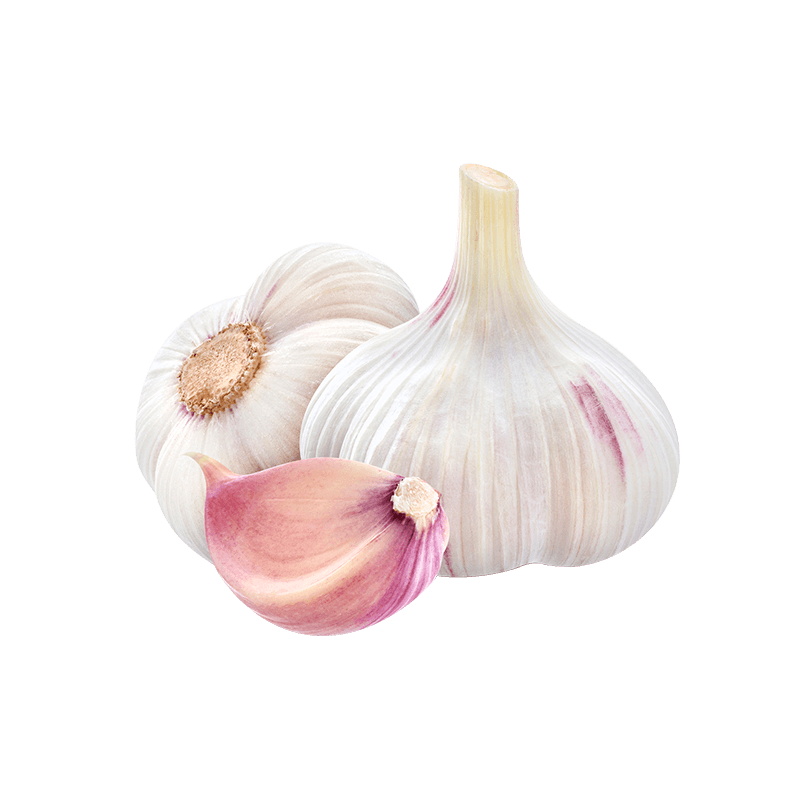 knoflook
Vaste, eenzaadlobbige moesplant met bollen die een sterke geur en smaak hebben, en die vaak in de keuken gebruikt worden. Een knoflookbol bestaat uit verschillende bolknoppen of lookteentjes.
Latijnse naam
Allium sativum L.
Afkomst
Centraal-Azië, het Middellandse Zeegebied, de Kaukasus, Afghanistan en Noord-India.
Actieve bestanddelen
Sachariden (FOS, inuline): stimuleren een evenwichtige darmflora.
Essentiële olie (allicine, DAS, DADS, DATS, AMS): deze vluchtige zwavelhoudende bestanddelen zijn verantwoordelijk voor de meeste gezondheidseffecten. Ze hebben een antiseptische en antioxiderende werking, verlagen de bloeddruk en het cholesterolgehalte, en beschermen het hart en de bloedvaten. Deze bestanddelen zorgen ook voor de slechte adem die gepaard gaat met de consumptie van knoflook.
Organische zwavelbestanddelen (SAC, SMC, SAMC): gaan de oxidatie van cholesterol tegen en beschermen de lever.
Gebruik
Knoflook is overal ter wereld een van de meest gebruikte kruiden om tal van spijzen op smaak te brengen. Hoewel we doorgaans de knollen gebruiken, zijn ook de bladeren en bloemen van deze plant eetbaar. Deze hebben een zachtere smaak. Knoflook is bekend sinds het Oude Egypte, en is door de eeuwen heen aangewend voor de behandeling van verschillende aandoeningen, zoals hart- en vaatziekten, artritis, longaandoeningen, buiktumoren, diarree en parasietinfecties.
De moderne wetenschap heeft de meeste overtuigingen van deze oude culturen kunnen bevestigen.
Knoflook kan bijdragen tot het behoud van een evenwichtig microbieel evenwicht van de darmflora en helpt te beschermen tegen schadelijke micro-organismen.1-5 Knoflook heeft ook een immunomodulerende werking.6-13 Dankzij zijn antioxidanten gaat het de vorming van vrije radicalen tegen, waardoor de voortijdige veroudering van het lichaam wordt afgeremd. Knoflook gaat ook de oxidatie van cholesterol tegen14-19 en draagt bij tot een goede werking van het hart en de bloedsomloop, de normalisering van het cholesterolgehalte en de verlaging van het homocysteïnegehalte.20-25 Bovendien beschermt het de lever tegen de effecten van toxinen en garandeert het een goede werking van dit orgaan.26-40 Knoflook heeft ook een positief effect op het metabolisme van suiker en verhoogt de insulinegevoeligheid.41-46
Hou je niet van de sterke geur van knoflook? Uit een recent onderzoek blijkt dat het drinken van melk onmiddellijk na de consumptie van knoflook de productie van de slechtruikende moleculen aanzienlijk verlaagt.47
De gezondheidsclaims voor planten die in onze producten voorkomen, staan op een lijst van gezondheidsclaims in afwachting van een definitief standpunt van Brussel (cf. website van de Europese Commissie: http://ec.europa.eu/nuhclaims/). Ten gevolge van hun behandeling door de nationale overheden, kunnen hierin wijzigingen optreden.
De gezondheidsclaims van andere voedingsmiddelen of bestanddelen in onze producten zijn conform aan het Reglement N° 432/2012 van de Commissie van 16 mei 2012, die een lijst opmaakt van de toegelaten gezondheidsclaims ivm voedingsmiddelen, die niet verwijzen naar de vermindering van ziekterisico's, de ontwikkeling van ziektes en de gezondheid van kinderen (cf. website van de Europese Commissie: http://ec.europa.eu/nuhclaims/).