Kurkuma
Stevige vaste plant die tot wel 90 cm hoog kan groeien. De plant heeft grote, groene, langwerpige en spitse bladeren. De lichtgele bloemen groeien in trossen. De verse wortelstok heeft een beige schil en is binnenin feloranje van kleur.
Latijnse naam
Curcuma longa L.
Actieve bestanddelen
Curcuminen: polyfenolen met een antioxiderende en ontstekingsremmende werking.
Carotenen: in water oplosbare antioxidanten.
Essentiële olie: zorgt voor het aroma.
Gebruik
Kurkuma is een van de voornaamste ingrediënten in tal van Aziatische gerechten en in currypoeders. Het heeft een lichtjes bittere en peperige, grondachtige smaak, en ruikt bijna als mosterd.
Kurkuma wordt gebruikt als bewaarmiddel en als natuurlijke kleurstof.
In het Europa van de middeleeuwen werd kurkuma 'saffraan uit India' genoemd, omdat deze stof vaak werd gebruikt als alternatief voor saffraan, een veel duurdere specerij, om voedingsmiddelen te kleuren.
Vandaag wordt kurkuma aangewend om kazen, yoghurt, boter en margarine te kleuren. Bovendien zorgt kurkuma voor de gele kleur in sommige mosterdsoorten en andere voedingsmiddelen.
Kurkuma wordt vaak gebruikt om stoffen voor kleding te kleuren, zoals sari's en de gewaden van boeddhistische monniken.
Sommige bevolkingsgroepen brengen kurkuma aan op het lichaam tijdens bepaalde rituelen.
Kurkuma wordt al eeuwen in de ayurvedische en de Chinese geneeskunde aangewend. In India wordt kurkuma traditiegetrouw gebruikt om maagongemakken en leveraandoeningen tegen te gaan, maar ook om wonden te genezen en de menstruatiecyclus te regelen.
Het zijn vooral de curcuminen, polyfenolische bestanddelen, die zorgen voor de meeste gezondheidseffecten. Klinische studies hebben aangetoond dat curcumine veilig is voor gebruik bij de mens, zelfs bij een hoge dosis van 12 g per dag, maar dat het een stof is met een beperkte biobeschikbaarheid. Dat komt door de beperkte orale absorptie aangezien deze molecule een erg lage wateroplosbaarheid vertoont, evenals een presystemisch metabolisme.
Om de biobeschikbaarheid van curcumine te verbeteren, worden tal van maatregelen genomen. Eerst en vooral wordt piperine als adjuvant gebruikt. Momenteel worden duidelijk betere resultaten verkregen via de micro-inclusie van de molecule in betacyclodextrine of fytosomen.
Dankzij haar antioxiderende werking beschermt curcumine de lichaamscellen.1-10 Ze helpt bovendien de ontstekingsrespons te beheren.11-63
Ze draagt bij tot de goede werking en gezondheid van de lever64-98 en het spijsverteringsstelsel.99-132
Curcumine draagt bij tot een gezond bewegingsstelsel en helpt de gewrichten, pezen en spieren flexibel te houden, en pijn door ontstekingsreacties te verzachten.133-153
36 tabletten (planten)
+ 18 tabletten (Lactobacillus & Bifidobacterium)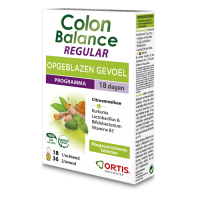 ---
Citroenmelisse helpt iin het geval van opgeblazen gevoel en flatulenties + Lactobacillus + Bifidobacterium
...
54 tabletten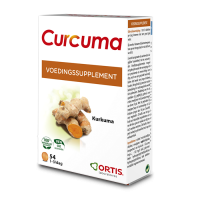 ---
Kurkuma helpt om gewrichten soepel te houden
30 tabletten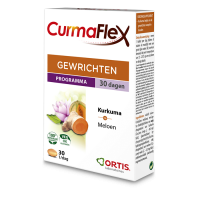 ---
Kurkuma: helpt om de gewrichten soepel te houden
De gezondheidsclaims voor planten die in onze producten voorkomen, staan op een lijst van gezondheidsclaims in afwachting van een definitief standpunt van Brussel (cf. website van de Europese Commissie: http://ec.europa.eu/nuhclaims/). Ten gevolge van hun behandeling door de nationale overheden, kunnen hierin wijzigingen optreden.
De gezondheidsclaims van andere voedingsmiddelen of bestanddelen in onze producten zijn conform aan het Reglement N° 432/2012 van de Commissie van 16 mei 2012, die een lijst opmaakt van de toegelaten gezondheidsclaims ivm voedingsmiddelen, die niet verwijzen naar de vermindering van ziekterisico's, de ontwikkeling van ziektes en de gezondheid van kinderen (cf. website van de Europese Commissie: http://ec.europa.eu/nuhclaims/).