Rozenwortel
Vaste, tweehuizige vetplant (mannelijk of vrouwelijk, zelfbestuiving is niet mogelijk) die groeit in de koude delen van de wereld met een voorkeur voor hoge gebieden (tot 2280 meter hoog). Bestaat uit verschillende takken van dezelfde dikke wortel, kan 5 tot 35 cm lang worden en draagt kleine, roze bloemen die samenkomen in de uiteinden van de plant.
Latijnse naam
Rhodiola rosea L
Afkomst
Koude gebieden: de Noordpool, Rusland, Centraal-Azië, Zwitserland, de Alpen, de Pyreneeën, de Karpaten, Scandinavië, IJsland, Groot-Brittannië en Ierland.
Actieve bestanddelen
Salidroside, rosavine: deze bestanddelen hebben een bewezen antidepressieve, angstwerende en adaptogene werking, beschermen de zenuwen, het hart en de bloedvaten en gaan vermoeidheid tegen. p-Tyrosol: antioxidant die ook in olijfolie terug te vinden is. Fenolen: dragen bij tot de oxidatieremmende werking.
Gebruik
Het gebruik van de rozenwortel gaat terug tot de Vikings, die de plant gebruikten om hun kracht en uithoudingsvermogen te vergoten.
Rozenwortel wordt traditioneel gebruikt om het fysieke uithoudingsvermogen en de prestaties op het werk te ondersteunen en om langer te leven.
We gebruiken hem ook tegen vermoeidheid, hoogteziekte, depressie, impotentie en problemen met de spijsvertering en het zenuwstelsel.
Rozenwortel draagt bij tot het stimuleren van de waarneming en het verbeteren van het gemoed en heeft een gunstig effect op vermoeidheid en door stress veroorzaakte hoofdpijn.1-6 Studies bij atleten hebben niet alleen een verhoging van de concentratie, de snelheid en de fysieke kracht, maar ook van het uithoudingsvermogen en de stressbestendigheid aangetoond.7-14
De plant heeft een beschermend effect op het zenuwstelsel, onder andere dankzij de werking van krachtige antioxidanten.15-21
36 tabletten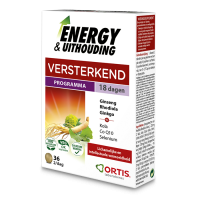 ---
Een synergie van drie planten en spoorelementen om energie te herwinnen een uw batterijen terug op te laden
...
De gezondheidsclaims voor planten die in onze producten voorkomen, staan op een lijst van gezondheidsclaims in afwachting van een definitief standpunt van Brussel (cf. website van de Europese Commissie: http://ec.europa.eu/nuhclaims/). Ten gevolge van hun behandeling door de nationale overheden, kunnen hierin wijzigingen optreden.
De gezondheidsclaims van andere voedingsmiddelen of bestanddelen in onze producten zijn conform aan het Reglement N° 432/2012 van de Commissie van 16 mei 2012, die een lijst opmaakt van de toegelaten gezondheidsclaims ivm voedingsmiddelen, die niet verwijzen naar de vermindering van ziekterisico's, de ontwikkeling van ziektes en de gezondheid van kinderen (cf. website van de Europese Commissie: http://ec.europa.eu/nuhclaims/).