Andrographis
Eenjarige, kruidachtige plant die tot 1 m hoog kan worden - Onbehaarde, lancetvormige en geveerde bladeren - Kleine witte of lichtroze bloemen met bruine of paarse accenten - De langwerpige capsules bevatten veel zaden.
Latijnse naam
Andrographis paniculata
Afkomst
De vlakten van India, Sri Lanka, China en Zuidoost-Azië - Past zich aan verschillende leefgebieden aan en werd onder andere ingevoerd in West-Afrika - Wordt op grote schaal geteeld in China, Thailand en India.
Actieve bestanddelen
Andrographolide: deze stof is verantwoordelijk voor het leverbeschermende effect maar ook voor de ontstekingsremmende en oxidatieremmende werking. Beschermt ook tegen verkoudheid.
Gebruik
Andrographis wordt al zeer lang gebruikt in de traditionele Chinese en Ayurvedische geneeskunde. De plant werd eeuwenlang ingezet tegen spijsverteringsstoornissen, luchtweginfecties, koorts en allerlei chronische en infectieziekten.
Vandaag wordt hij gebruikt tegen ademhalingsproblemen, zoals hoest, en om de keel op natuurlijke wijze te verlichten.1-7 Hij ondersteunt het immuunsysteem dankzij zijn krachtige oxidatieremmende werking en zijn immunomodulerend effect.8-11 Recente studies hebben aangetoond dat het complex 'Kan jang' (de combinatie van Andrographis met Eleutherococcus) met succes kan worden aangewend bij de natuurlijke behandeling van winterkwalen.12-19
45 tabletten (6/dag)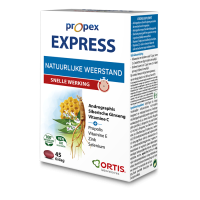 ---
Andrographis en siberische ginseng versterken de weerstand van het organisme Andrographis vergroot het adem
...
De gezondheidsclaims voor planten die in onze producten voorkomen, staan op een lijst van gezondheidsclaims in afwachting van een definitief standpunt van Brussel (cf. website van de Europese Commissie: http://ec.europa.eu/nuhclaims/). Ten gevolge van hun behandeling door de nationale overheden, kunnen hierin wijzigingen optreden.
De gezondheidsclaims van andere voedingsmiddelen of bestanddelen in onze producten zijn conform aan het Reglement N° 432/2012 van de Commissie van 16 mei 2012, die een lijst opmaakt van de toegelaten gezondheidsclaims ivm voedingsmiddelen, die niet verwijzen naar de vermindering van ziekterisico's, de ontwikkeling van ziektes en de gezondheid van kinderen (cf. website van de Europese Commissie: http://ec.europa.eu/nuhclaims/).