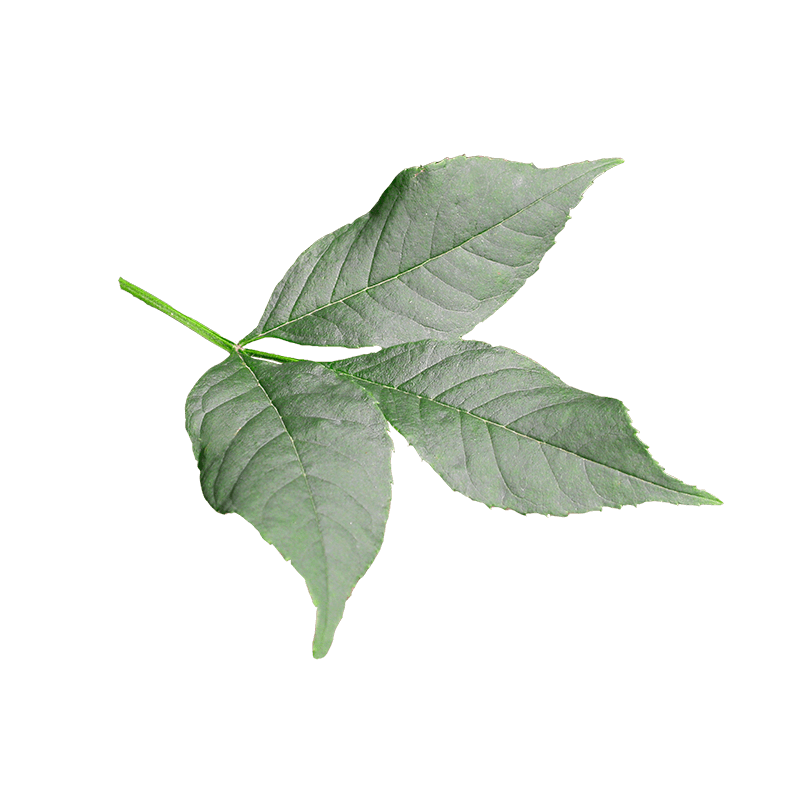 Es
Deze boom kan een hoogte bereiken van 40 meter en een diameter van één meter. De rechte stam met gladde, grijsachtige schors wordt in de loop der jaren heel wat ruwer. Het hout van de es heeft een witte parelmoeren kleur. Het is relatief sterk, taai en elastisch. De boom heeft geen duidelijk te onderscheiden spinthout (het gedeelte van de boom net onder de schors).
De es heeft een oneven geveerd, tegenoverstaand blad met zeven tot vijftien donkergroene deelblaadjes.
De eindknoppen zijn kegelvormig, onbehaard en relatief groot. Ze hebben een kenmerkende lichtzwarte kleur.
Latijnse naam
Fraxinus excelsior L.
Actieve bestanddelen
Flavonoïden (quercetine): antioxiderende en ontstekingsremmende werking.
Coumarines (fraxine, fraxetine): antioxiderende en ontstekingsremmende werking.
Secoiridoïden: ontstekingsremmende werking dankzij een anticomplementeffect.
Gebruik
De es kent onder meer toepassingen in de keuken. De onrijpe zaden worden in zout en azijn gedrenkt en vervolgens gebruikt als specerij. De bladeren van de es worden soms toegevoegd aan thee of kruidendranken om de smaak te wijzigen of een extra effect toe te voegen.
Op basis van de zaden wordt een eetbare olie vervaardigd die lijkt op zonnebloemolie.
Er bestaat ook een bruisende drank die gemaakt wordt op basis van essenbladeren: essencider of frênette. Essencider is een gegist aftreksel van de met een zoete substantie bedekte bladeren van de es. De zoete stof wordt door de es afgescheiden door de activiteiten van de bladluis. Deze essencider of frênette is vooral bekend in Noord-Frankrijk.
In de traditionele geneeskunde zien we dat de bladeren worden aangewend om hun urineafdrijvende, zweetafdrijvende en laxerende werking. De plant werd in het bijzonder gebruikt bij de behandeling van jicht en reuma.
Uit recent onderzoek blijkt een stimulerend effect op de nieren, dat leidt tot een grotere afvoer van water en gifstoffen.1 De es heeft bovendien een positieve impact op de flexibiliteit van de gewrichten, de spieren en pezen. Daarnaast helpt de es ook om gewrichtspijn te verzachten.2-20
45 tabletten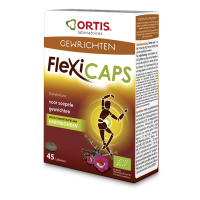 ---
Harpagophytum, ook wel "duivelsklauw" genoemd, behoudt de flexibiliteit van de gewrichten Optimale doeltre
...
De gezondheidsclaims voor planten die in onze producten voorkomen, staan op een lijst van gezondheidsclaims in afwachting van een definitief standpunt van Brussel (cf. website van de Europese Commissie: http://ec.europa.eu/nuhclaims/). Ten gevolge van hun behandeling door de nationale overheden, kunnen hierin wijzigingen optreden.
De gezondheidsclaims van andere voedingsmiddelen of bestanddelen in onze producten zijn conform aan het Reglement N° 432/2012 van de Commissie van 16 mei 2012, die een lijst opmaakt van de toegelaten gezondheidsclaims ivm voedingsmiddelen, die niet verwijzen naar de vermindering van ziekterisico's, de ontwikkeling van ziektes en de gezondheid van kinderen (cf. website van de Europese Commissie: http://ec.europa.eu/nuhclaims/).