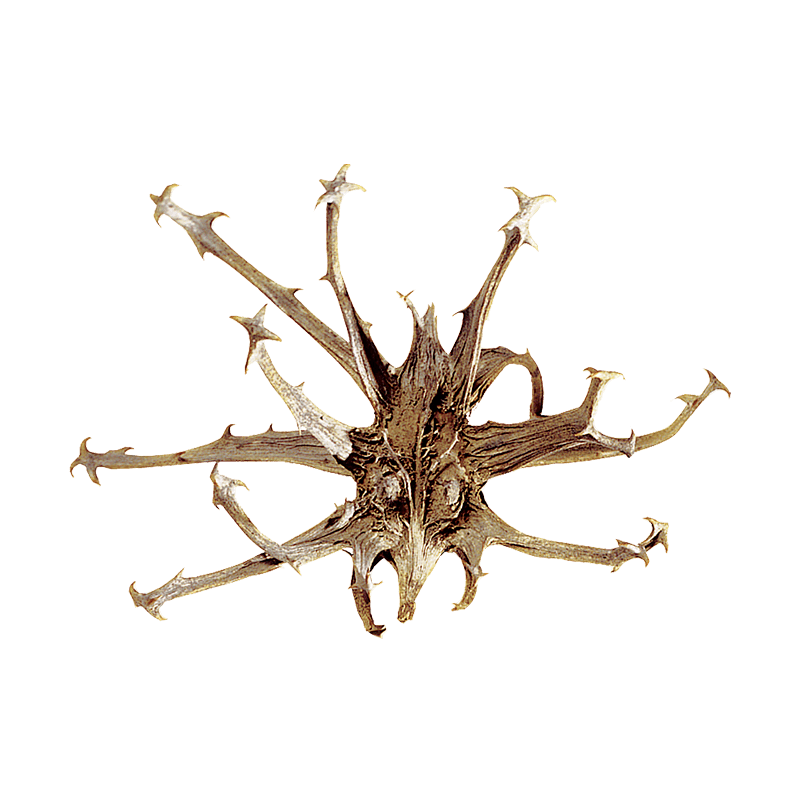 Harpagophytum
Duivelsklauw is een kruidachtige, winterharde plant. De hoofdwortel dringt verticaal zeer diep in de grond door en heeft secundaire wortels en wortelknollen die tot anderhalve kilo kunnen wegen. De heldergroene, tegenoverstaande bladeren zijn vlezig, gesteeld en gelobd. De trompetvormige, alleenstaande, bleekroze bloemen (4 tot 6 cm) worden wanneer ze volgroeid zijn enigszins paarsrood. De zeer karakteristieke, houtachtige vruchten zijn 10 tot 20 cm lang, liggen direct op de bodem en bezitten vertakte uitgroeisels met scherpe weerhaken, wat een zeer typische klauwvorm oplevert.
Latijnse naam
Harpagophytum procumbens
Afkomst
Woestijnachtige gebieden in het zuidoosten van Afrika (voornamelijk de Kalahariwoestijn en de steppe van Namibië).
Actieve bestanddelen
Iridoïden (harpagide, harpagoside, coumaroylharpagide, procumbide): stoffen die verantwoordelijk zijn voor het ontstekingsremmende en pijnstillende effect, en voor de bescherming van het kraakbeen.
Fenolzuren: antioxidant.
Flavonoïden: antioxidant.
Gebruik
Tal van etnische groepen in Afrika maken traditioneel gebruik van de wortelstokken van duivelsklauw voor diverse aandoeningen: maagproblemen, postnatale pijn, koorts, een gebrek aan eetlust, indigestie, om infectieziekten te genezen en om onvruchtbaarheid bij de vrouw en pijn in de ledematen te behandelen.
Tijdens de jaren vijftig, toen Duitse wetenschappers zich begonnen te interesseren voor traditionele Namibische geneesmiddelen, is heel wat wetenschappelijk onderzoek gevoerd naar duivelsklauw.
Sindsdien worden bereidingen op basis van de wortelknol gebruikt voor de behandeling van pijnlijke artrose, tendinitis, jicht, lumbago (spit), spierpijn, dyspepsie, een gebrek aan eetlust, en ook als ondersteunende behandeling voor degeneratieve reuma.
Tot de jaren negentig was weinig bekend over de precieze actieve bestanddelen, de exacte effecten en hun doeltreffendheid. Ondertussen heeft verder onderzoek uitgewezen dat bepaalde extracten van duivelsklauw doeltreffend en veilig om te gebruiken zijn.
Het gebruik van de plant wordt vandaag wetenschappelijk ondersteund wat betreft de verzachtende werking1-21 bij gewrichtsproblemen22-33 en pijn aan de onderrug.34-40 Duivelsklauwextract kan ook worden gebruikt in crèmes of gels voor uitwendig gebruik. 41-43
45 tabletten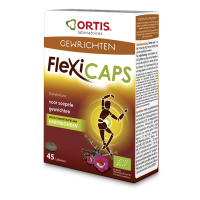 ---
Harpagophytum, ook wel "duivelsklauw" genoemd, behoudt de flexibiliteit van de gewrichten Optimale doeltre
...
De gezondheidsclaims voor planten die in onze producten voorkomen, staan op een lijst van gezondheidsclaims in afwachting van een definitief standpunt van Brussel (cf. website van de Europese Commissie: http://ec.europa.eu/nuhclaims/). Ten gevolge van hun behandeling door de nationale overheden, kunnen hierin wijzigingen optreden.
De gezondheidsclaims van andere voedingsmiddelen of bestanddelen in onze producten zijn conform aan het Reglement N° 432/2012 van de Commissie van 16 mei 2012, die een lijst opmaakt van de toegelaten gezondheidsclaims ivm voedingsmiddelen, die niet verwijzen naar de vermindering van ziekterisico's, de ontwikkeling van ziektes en de gezondheid van kinderen (cf. website van de Europese Commissie: http://ec.europa.eu/nuhclaims/).