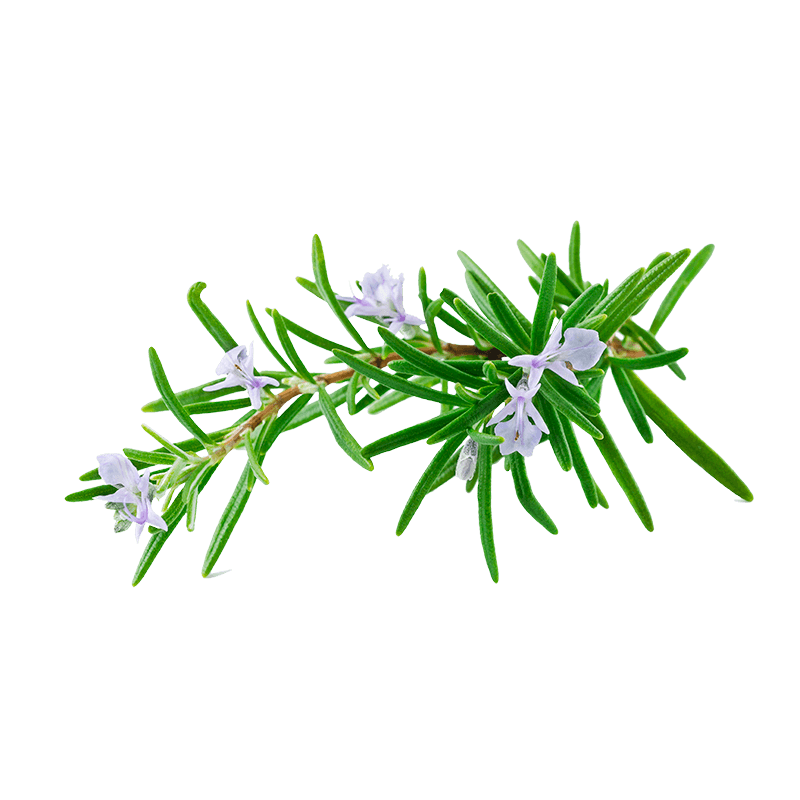 Rozemarijn
Rozemarijn behoort tot de familie van de lipbloemigen (Lamiaceae).
Het is een houterige struik die tot 1,5 m hoog kan groeien. Deze attractieve, winterharde en droogtolerante plant heeft groene naaldachtige bladeren met een aromatische geur.
Het bloeit van de lente tot in de zomer met roze, witte, blauwe tot purperen kleine bloemetjes. In een warmer klimaat kan de plant het hele jaar door bloeien.
Latijnse naam
Rosmarinus officinalis L.
Gebruikte delen
Bovengrondse plantendelen.
Actieve bestanddelen
Etherische olie (kamfer, 1,8-cineol): antibacteriële, antioxidant, krampwerend, ontstekingsremmend en kalmerend.
Flavonoïden: ontstekingsremmend, antioxidant.
Fenolzuren (rozemarijnzuur, cafeïnezuur): kalmerend, antioxidant.
Diterpenen (carnosinezuur, carnosol): ontstekingsremmend, antioxidant.
Gebruik
Vroeger werd het kruid gebrand als wierook of als strooikruid in de leefruimten rondgestrooid. Het maakte ooit, samen met salie, tijm en lavendel, deel uit van de befaamde "Vinaigre des quatre voleurs" (of vier dievenazijn), toen het zuiden van Frankrijk geteisterd werd door de zwarte pest en vier dieven zich met deze bereiding konden beschermden en de huizen van overledenen leeghaalden. Zo gaat tenminste het verhaal.
Als sierplant duikt rozemarijn vaak op in rotstuinen waar het het ruige karakter van de tuin goed doet uitkomen.
In de traditionele geneeskunde, is rozemarijn gebruikt als stimulans en mild pijnstillend, en wordt beschouwd als een van de meest effectieve kruiden voor de behandeling van hoofdpijn, slechte circulatie, ontstekingsziekten en fysieke en mentale vermoeidheid. Verder werd het toegepast als galdrijvend en leverbeschermend.
Tegenwoordig, vanwege de frisse geur, wordt de etherische olie vaak aan parfum, cosmetische en hygiënische producten toegevoegd.
Maar de bittere, aromatische bladeren lenen zich uitstekend in de keuken en kunnen worden gebruikt om vleesgerechten en sauzen een mediterrane toets te geven. Het gebruik als bitter keukenkruid, of zelfs als digestief, is heel terecht, aangezien de inhoudsstoffen van de plant een galdrijvende en dus spijsverteringsbevorderende werking en een krampstillende hebben. 1-3
Wat heeft de wetenschap nog meer kunnen ontdekken over dit veelzijdig kruid?
Zowel de waterige extracten als de etherische olie van rozemarijn verhogen de houdbaarheid van voedsel, oa vanwege de antioxidant- en antibacteriële werking en kunnen daarom als natuurlijk en krachtig bewaarmiddel worden ingezet. 4-9
Maar rozemarijn is ook een krachtige antioxidant voor ons organisme. Zo zouden de diterpenen de nucleaire factor Nrf2 activeren, wat leidt tot de aanmaak van onze lichaamseigen antioxidanten. Op die manier kunnen de cellen van onze organen tegen veroudering en schade door vrije radicalen en giftige metalen op een snelle en doeltreffende wijze worden beschermd. 10-17
Heel speciaal naar de werking van de lever worden momenteel mechanismen ontdekt die wijzen op de beschermende en regenererende werking van het kruid. 18-24
De topische toepassing van verschillende extracten kunnen worden ingezet bij acne en om wondheling te verbeteren, en zijn ook populaire vanwege hun anti-aging werking. Zowel de UVA- en UVB-stralen van de zon leiden tot een verhoogde oxidatieve stress die op zijn beurt de oxidatie van de huidlipiden en ontsteking in de hand werkt. Gevolg is een roodverkleuring van de huid, de vorming van rimpels en een verlies van elasticiteit. Door zijn uitgesproken antioxidantwerking en zijn ontstekingsremmende werking is rozemarijn in staat dit proces af te remmen. 25-31
Recent uitgevoerd wetenschappelijk onderzoek ondersteunt deze ontstekingsremmende en zelfs pijnstillende werking. 32-42
In de aromatherapie is het gebruikelijk om etherische oliën van kruiden te verdampen en in te ademen. Wel nu, een studie uitgevoerd in 2013, toonde aan dat personen na het inhaleren van rozemarijnolie zich actiever en "frisser" voelden. 43
Dat zelfs het aroma van de plant alleen al een werking heeft op ons psyche, onafgezien van de brede fysiologische werking op ons lichaam, laat zien dat rozemarijn een bijzonder veelzijdig en waardevol kruid is.
De gezondheidsclaims voor planten die in onze producten voorkomen, staan op een lijst van gezondheidsclaims in afwachting van een definitief standpunt van Brussel (cf. website van de Europese Commissie: http://ec.europa.eu/nuhclaims/). Ten gevolge van hun behandeling door de nationale overheden, kunnen hierin wijzigingen optreden.
De gezondheidsclaims van andere voedingsmiddelen of bestanddelen in onze producten zijn conform aan het Reglement N° 432/2012 van de Commissie van 16 mei 2012, die een lijst opmaakt van de toegelaten gezondheidsclaims ivm voedingsmiddelen, die niet verwijzen naar de vermindering van ziekterisico's, de ontwikkeling van ziektes en de gezondheid van kinderen (cf. website van de Europese Commissie: http://ec.europa.eu/nuhclaims/).