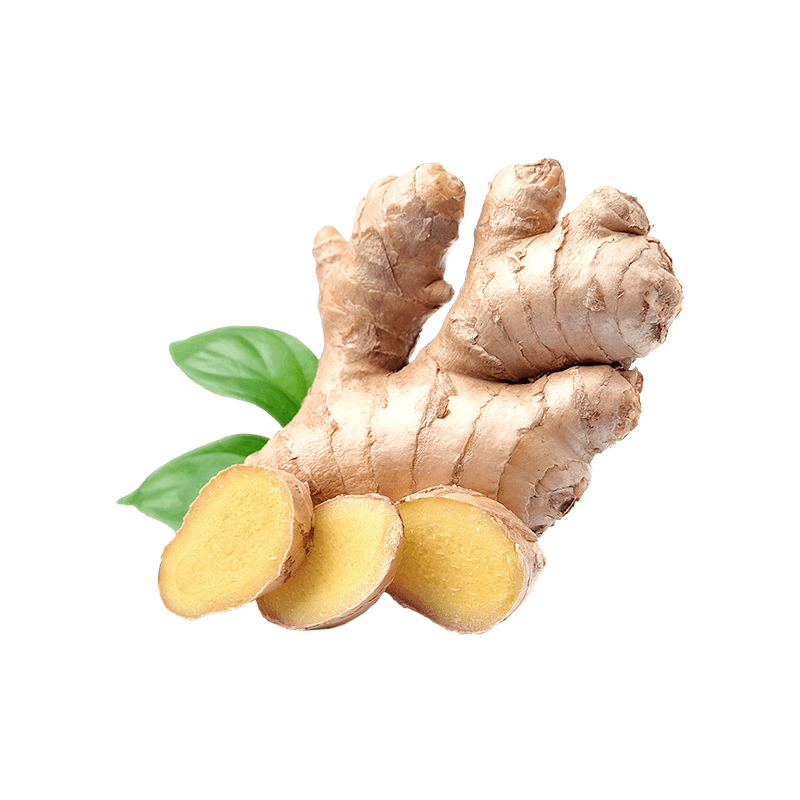 Ginger
A tropical herbaceous perennial plant of approximately 0.90 m tall that grows from a rhizome - evergreen, lance-shaped, biseriate, long and fragrant leaves - White and yellow flowers with red edges, with green and yellow bracts. A short axillary ear enclosing encapsulated black seeds appear after the plant flowers at the end of a stem covered in scales.
Latin name
Zingiber officinale Roscoe
Active components
Oleoresin: responsible for the heat when eaten, but also for the antiemetic and digestive effect.
Usage
Ginger is often used as a spice in cooking and it is also found as a component in various spice blends. It has a distinctive flavour that induces appetite. It is an essential ingredient in Asian cuisine, where it is used in spicy dishes and even in patisserie. The root can even be confited for use in confectionery. Ginger ale is a refreshing carbonated drink based on ginger. Originating in Suriname, ginger ale is now popular as a non-alcoholic yet somewhat spicy drink. Ginger has a long history of medicinal use in traditional Chinese and Ayurvedic medicine. It has been used to stimulate libido and vitality, but also to treat travel sickness, nausea, digestive disorders and inflammation. Scientific research into ginger demonstrates that this plant is rich in antioxidants 1-7and that it has immunomodulating properties 8-18.
Bibliographical references
30 tablets (1 to 3/day)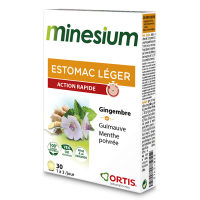 ---
Ginger aids proper gastric function following a meal which is difficult to digest or due to travel discomfor
...
The health claims that feature on our website in relation to the plants contained in our products are compliant with the list of health claims awaiting final assessment by the Community authorities (cf. website of the European Commission: http://ec.europa.eu/nuhclaims/). However, they may be subject to modification following their assessment by the national competent authorities.
The health claims relating to other nutrients or substances contained in our products that feature on our site are compliant with Regulation No. 432/2012 of the Commission of 16 May 2012 which establishes a list of authorised health claims authorised in relation to food products, other than those in reference to the reduction of the risk of disease as well as community-based development and child health (cf. website of the European Commission: http://ec.europa.eu/nuhclaims/).