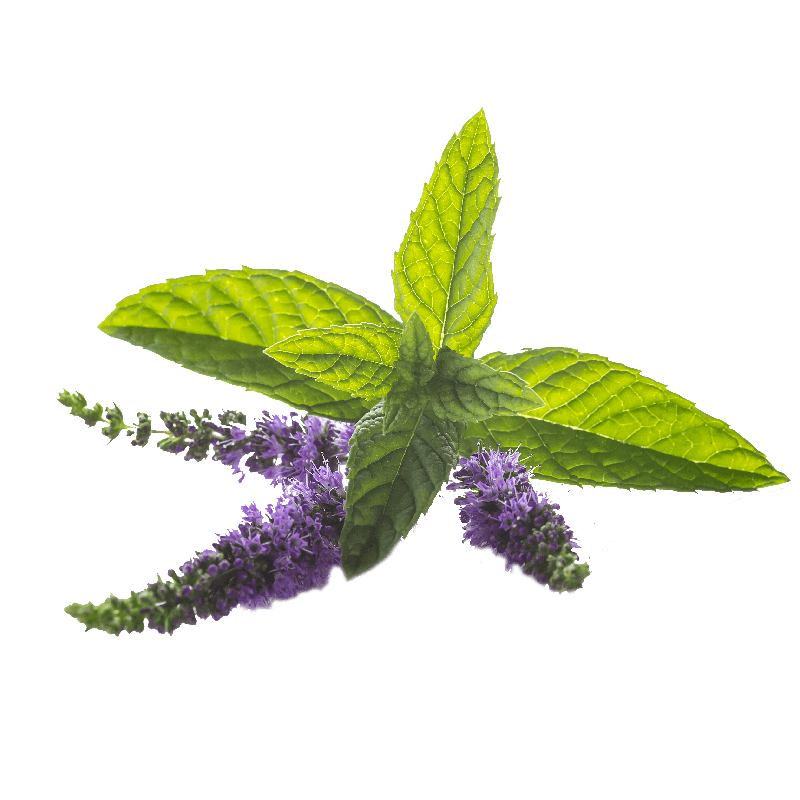 Peppermint
Peppermint is a rapidly growing, perennial plant, is the result of a cross between water mint (M. aquatica) and spearmint (M. spicata). The "x" that appears in the plant's botanical name indicates that it comes from a cross between two different plants and that leads to a new type of plant in a class of its own. The plant can reach 80 cm tall. Its lance-shaped leaves are small, dark green, and webbed with red veins. When the plant is exposed to the sun, its leaves can take on shades of red. Like most lamiaceae, the stems are divided into four grooves. Peppermint flowers in summer. Its small flowers vary between shades of pink and purple. This type of mint is sterile and therefore cannot reproduce via its seeds. However, like all types of mint, this plant can propagate easily via its rhizome and stolons. It can therefore spread as quickly as other plants.
Latin name
Mentha x piperita L.
Origin
The cross that resulted in peppermint probably took place in the temperate regions of Europe, Asia and Africa.
Used part
The aerial parts.
Active components
Essential oil (menthol, menthone): It has a vast scope of action. To combat cramps, fight bacteria, stimulate the production of bile, dissipate intestinal gases, provide calm, ease pain and promote digestion.
Tannins: Antibacterial action.
Flavonoids: Antioxidant action.
Phenolic acids: Antioxidant action.
Usage
The use of mint dates back to Egyptian, Greek and Roman times. It was popular to use it in cooking but also as a medicinal plant to treat all sorts of digestive problems such as nausea, indigestion, abdominal cramps and flatulence. During ancient times, it was added to all sorts of culinary preparations and even confectionery; as well as personal hygiene products such as cosmetics and soaps. It was most extensively used as an infusion. If you want to plant mint in your garden, taste a little leaf before you purchase the plant. There are so many varieties that differ in flavour. Also consider the fact that it propagates easily. Use its rhizomes or plant the mint in a pot. Mint essential oil is now found in chewing gums, toothpastes and even in natural insect repellent solutions. According to recent scientific studies, peppermint oil has interesting properties. It stimulates the function of the gastrointestinal system and as so restores it to a healthy condition. It contributes to the passages of fats and so supports the liver. 1-7 Peppermint oil acts exceptionally well in the case of bloating. It calms cramps and relaxes the intestinal muscles. Thanks to its antibacterial properties, it halts the activity of pathogenic micro-organisms and reduces the production of intestinal gases.8-24 When using peppermint oil, it is important to be attentive to the fact that high doses can irritate the wall of the stomach and can even lead to acid reflux. This is why it is important to choose peppermint oil-based tablets protected by a gastro-resistant coating. This ensures that the tablets deliver their active ingredients along the full length of the intestines. Menthol has refreshing properties since it activates the cold receptors in the skin. This is why it is used in soothing and refreshing creams and lotions.25-28  
Bibliographical references
Herbal remedies for dyspepsia: peppermint seems effective.
[No authors listed]
Prescrire Int. 2008 Jun;17(95):121-3.
Pubmed: http://www.ncbi.nlm.nih.gov/pubmed/18630390
Antiemetic activity of volatile oil from Mentha spicata and Mentha × piperita in chemotherapy-induced nausea and vomiting
Z Tayarani-Najaran, E Talasaz-Firoozi, R Nasiri, N Jalali and MK Hassanzadeh
Ecancermedicalscience. 2013; 7: 290.
PMC: http://www.ncbi.nlm.nih.gov/pmc/articles/PMC3562057/
Mode of Action of Peppermint Oil and (-)-Menthol with Respect to 5-HT3 Receptor
Subtypes: Binding Studies, Cation Uptake by Receptor Channels and Contraction of Isolated
Rat Ileum
Katharina Heimes, Florian Hauk and Eugen J. Verspohl
Phytother. Res. 25: 702–708 (2011)
Pubmed: http://www.ncbi.nlm.nih.gov/pubmed/21077259
Aromatherapy for treatment of postoperative nausea and vomiting (Review)
Hines S, Steels E, Chang A, Gibbons K
ePrints: http://eprints.qut.edu.au/54475/4/54475b.pdf
Peppermint oil: a treatment for postoperative nausea
Tate S.
J Adv Nurs. 1997 Sep;26(3):543-9.
Pubmed: http://www.ncbi.nlm.nih.gov/pubmed/9378876
Preliminary experimental research on the mechanism of liver bile secretion stimulated by peppermint oil.
Zong L, Qu Y, Luo DX, Zhu ZY, Zhang S, Su Z, Shan JC, Gao XP, Lu LG.
J Dig Dis. 2011 Aug;12(4):295-301.
Pubmed: http://www.ncbi.nlm.nih.gov/pubmed/21791024
Folium Menthae Piperitae
WHO Monographs on Selected Medicinal Plants - Volume 2 (2004)
WHO: http://apps.who.int/medicinedocs/es/d/Js4927e/20.html#Js4927e.20
Efficacy of Peppermint oil in diarrhea predominant IBS - a double blind randomized placebo - controlled study.
Alam MS, Roy PK, Miah AR, Mollick SH, Khan MR, Mahmud MC, Khatun S.
Mymensingh Med J. 2013 Jan;22(1):27-30.
Pubmed: http://www.ncbi.nlm.nih.gov/pubmed/23416804
Gastrointestinal clinical pharmacology of peppermint oil
H.-G. Grigoleit, P. Grigoleit
Phytomedicine 12 (2005) 607–611
ScienceDirect: http://www.sciencedirect.com/science/article/pii/S0944711305001066
Peppermint oil (Mintoil®) in the treatment of irritable bowel syndrome: A prospective double blind placebo-controlled randomized trial
G. Cappello, M. Spezzaferro, L. Grossi, L. Manzoli, L. Marzio
Digestive and Liver Disease 39 (2007) 530–536
Pubmed: http://www.ncbi.nlm.nih.gov/pubmed/17420159
Peppermint oil in irritable bowel syndrome
H.-G. Grigoleit,P. Grigoleit
Phytomedicine 12 (2005) 601–606
Pubmed: http://www.ncbi.nlm.nih.gov/pubmed/16121521
The Treatment of Small Intestinal Bacterial Overgrowth With Enteric-Coated Peppermint
Oil: A Case Report
Alan C. Logan and Tracey M. Beaulne
Alternative Medicine Review Volume 7, Number 5 (2002)
Alternative Medicine Review: http://www.altmedrev.com/publications/7/5/410.pdf
Antibacterial effects of the essential oils of commonly consumed medicinal herbs using an in vitro model.
Soković M, Glamočlija J, Marin PD, Brkić D, van Griensven LJ.
Molecules. 2010 Oct 27;15(11):7532-46.
Pubmed: http://www.ncbi.nlm.nih.gov/pubmed/21030907
Protective effects of bioactive phytochemicals from Mentha piperita with multiple health potentials.
Sharafi SM, Rasooli I, Owlia P, Taghizadeh M, Astaneh SD.
Pharmacogn Mag. 2010 Jul;6(23):147-53.
Pubmed: http://www.ncbi.nlm.nih.gov/pubmed/20931070
Evaluation of antibacterial activity of selected Iranian essential oils against Staphylococcus aureus and Escherichia coli in nutrient broth medium.
Mohsenzadeh M.
Pak J Biol Sci. 2007 Oct 15;10(20):3693-7.
Pakistan Journal of Biological Sciences: http://198.170.104.138/pjbs/2007/3693-3697.pdf
Anti-Candida activity of Brazilian medicinal plants.
Duarte MC, Figueira GM, Sartoratto A, Rehder VL, Delarmelina C.
J Ethnopharmacol. 2005 Feb 28;97(2):305-11.
Pubmed: http://www.ncbi.nlm.nih.gov/pubmed/15707770
Antimicrobial and antioxidant activities of three Mentha species essential oils.
Mimica-Dukić N, Bozin B, Soković M, Mihajlović B, Matavulj M.
Planta Med. 2003 May;69(5):413-9.
Pubmed: http://www.ncbi.nlm.nih.gov/pubmed/12802721
Inhibition by the essential oils of peppermint and spearmint of the growth of pathogenic bacteria.
Imai H, Osawa K, Yasuda H, Hamashima H, Arai T, Sasatsu M.
Microbios. 2001;106 Suppl 1:31-9.
Pubmed: http://www.ncbi.nlm.nih.gov/pubmed/11549238
Enteric-coated peppermint-oil capsules in the treatment of irritable bowel syndrome: a prospective, randomized trial.
Liu JH, Chen GH, Yeh HZ, Huang CK, Poon SK.
J Gastroenterol. 1997 Dec;32(6):765-8.
Pubmed: http://www.ncbi.nlm.nih.gov/pubmed/9430014
Potential pharmacological and toxicological basis of the essential oil from Mentha spp
Peixoto, I.T.A.; Furlanetti, V.F.; Anibal, P.C.; Duarte, M.C.T.; Höfling, J.F.
Rev Ciênc Farm Básica Apl., 2009;30(3):235-239
Universidade Estadual Paulista Júlio de Mesquita Filho:
http://serv-bib.fcfar.unesp.br/seer/index.php/Cien_Farm/article/viewFile/800/889
30 tablets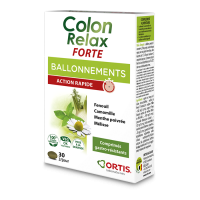 ---
Fennel, chamomile and peppermint help in case of bloating and flatulence Lemon balm contributes to a better
...
30 tablets (1 to 3/day)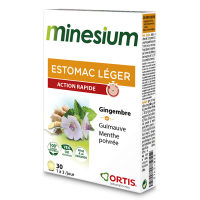 ---
Ginger aids proper gastric function following a meal which is difficult to digest or due to travel discomfor
...
The health claims that feature on our website in relation to the plants contained in our products are compliant with the list of health claims awaiting final assessment by the Community authorities (cf. website of the European Commission: http://ec.europa.eu/nuhclaims/). However, they may be subject to modification following their assessment by the national competent authorities.
The health claims relating to other nutrients or substances contained in our products that feature on our site are compliant with Regulation No. 432/2012 of the Commission of 16 May 2012 which establishes a list of authorised health claims authorised in relation to food products, other than those in reference to the reduction of the risk of disease as well as community-based development and child health (cf. website of the European Commission: http://ec.europa.eu/nuhclaims/).