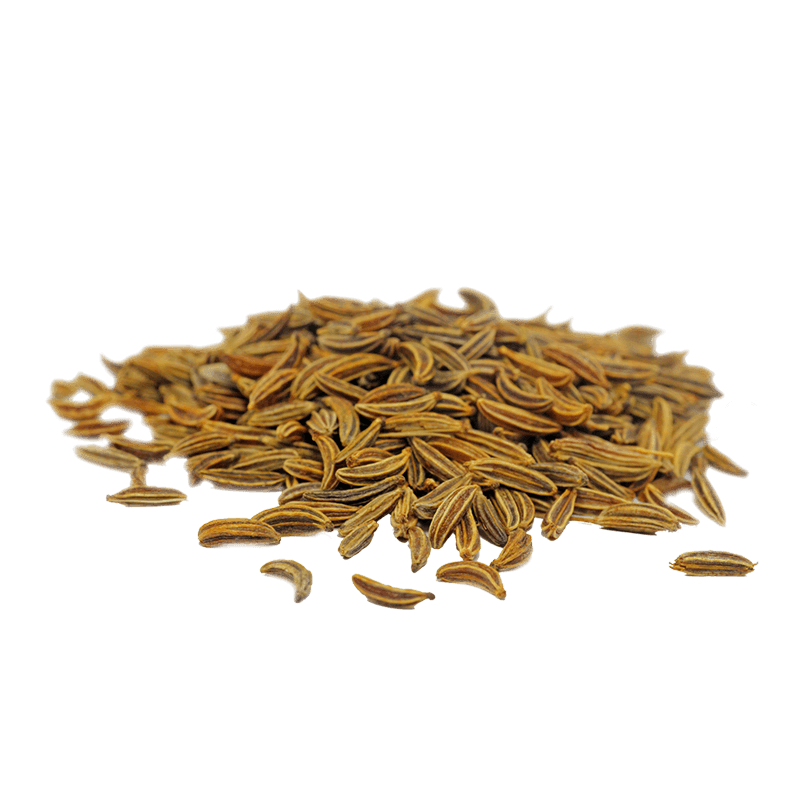 Caraway
Biennial herbaceous plant, 50 to 75 cm tall, with leaves divided into numerous linear lobes. Small white flowers grouped into umbels at the top. Its seeds are yellow and slightly curved.
Latin name
Carum carvi L.
Used part
The seeds.
Botanically, its fruit is schizocarps (fruit composed of multiple carpels).
Active components
Essential oil (carvone, limonene): it has an antiseptic action and improves digestion.
Usage
The fruit has a spicy flavour and smells of aniseed. It is used as a spice in bread. Caraway is also used in desserts and savoury dishes. As a traditional ingredient in Germanic cuisine, it is often added to sauerkraut. Caraway is also found in numerous alcohols and liqueurs such as Kummel and Aquavit. The essential oil is often used as an ingredient in soap, lotions and perfumes. Caraway seeds have been used since ancient times to treat various disorders, mainly of the digestive system. They also contribute to the normal function of the intestinal tract and support the production of digestive juices. Caraway alleviates sluggish digestion, flatulence and intestinal cramps. 1-3 The essential oil contributes to resistance to pathogenic micro-organisms.4
Bibliographical references
The health claims that feature on our website in relation to the plants contained in our products are compliant with the list of health claims awaiting final assessment by the Community authorities (cf. website of the European Commission: http://ec.europa.eu/nuhclaims/). However, they may be subject to modification following their assessment by the national competent authorities.
The health claims relating to other nutrients or substances contained in our products that feature on our site are compliant with Regulation No. 432/2012 of the Commission of 16 May 2012 which establishes a list of authorised health claims authorised in relation to food products, other than those in reference to the reduction of the risk of disease as well as community-based development and child health (cf. website of the European Commission: http://ec.europa.eu/nuhclaims/).