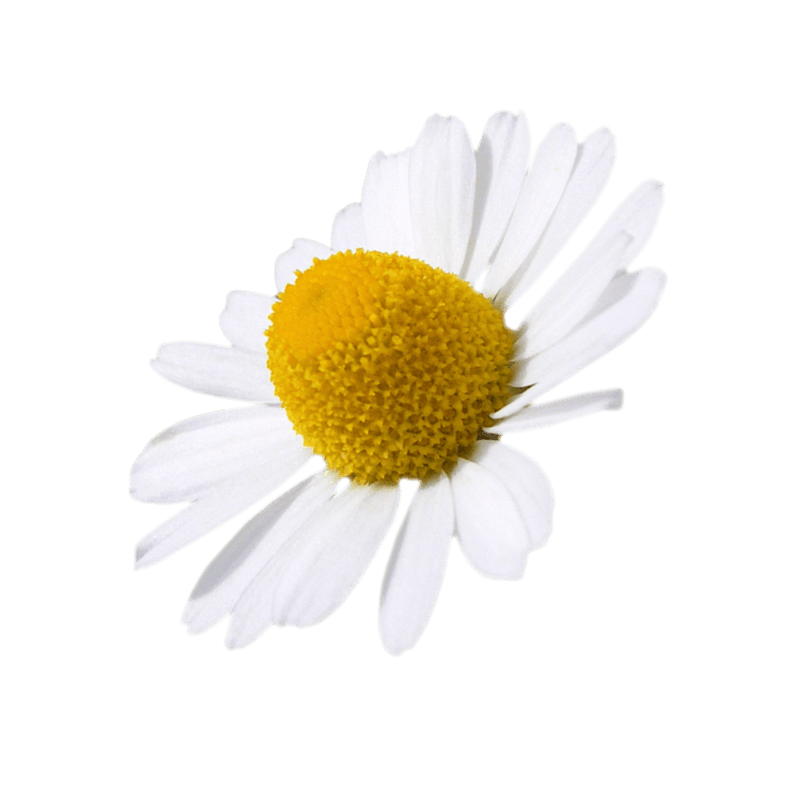 Chamomile (common)
Common chamomile is an annual plant from the asteraceae family.
It is a real pioneer plant, often found near residential areas, heavily used land or grown along roads and fields. It is not a demanding plant, because it can grow perfectly in damp ground and in dry soil. The texture of the soil or its degree of acidity is also not important, contrary to the sunlight, because it does not grow in the shade. The seeds sprout in September and the plant spends the winter with a bouquet of leaves. In the spring, the stems grow vertically to an approximate height of 60 cm, and release several offshoots. The plant can bloom twice a year. The flowers are pedunculate and have white ligulate flowers and light yellow tubular flowers. There are numerous plants that resemble common chamomile. Common chamomile is distinguished by its characteristic flavour of green apples, which is released when you rub the flowers, while the leaves are practically odourless. Moreover, the capitula of common chamomile are hollow. If the leaves of the plant also smell of green apples when rubbed, you are certainly in the presence of Roman chamomile.
Latin name
Matricaria recutita L.
Origin
Originally, chamomile was present throughout Europe and temperate Asia. Later on, it was introduced on a grand scale throughout temperate regions all over the world.
Active components
Sesquiterpenes (α-bisabolol, chamazulene): these components mainly have an anti-inflammatory function, protect the wall of the stomach and also have disinfectant properties.
Flavonoids (apigenin, luteolin): have calming and antispasmodic properties, are antioxidants and have an anti-inflammatory action.
Sesquiterpene lactone (matricin): is responsible for the bitter taste, but also has an anti-inflammatory action.
Coumarin (umbelliferone): has UV absorbing properties and is antibacterial.
Usage
For thousands of years, chamomile was used as a medicinal plant in ancient Egypt, Greece and Rome. It was used as an infusion for a wide variety of digestive disorders. It could also be applied in cases of mouth, throat and eye infections. When dried and powdered, the herb can be spread on the skin to disinfect and accelerate wound healing. The flowers were also used in the past as a room fragrance. The fresh and sweet odour pleasantly fragrances a room, while keeping insects at bay. Today, the essential oil is still used to fragrance cosmetic products and perfumes. In the past, chamomile infusions were used to lighten blonde hair.
A characteristic trait of the essential oil is its dark blue colour. This colour comes from the presence of chamazulene. However, this substance is not naturally contained in the plant, but in the colourless matricin. Thanks to the heat released during the steam distillation extraction process, this substance is transformed into blue chamazulene. Compared with matricin, chamazulene has a less powerful anti-inflammatory action. The supercritical CO2 extraction method produces a dark green oil, for which the transformation into chamazulene has not taken place, and is therefore to be favoured. The liposoluble components of chamomile mainly have an anti-inflammatory and disinfectant action, while the hydrosoluble components have a calming effect, which reduces cramps, and also has a mild disinfectant action. The best chamomile preparations are those that contain both parts. This type of preparation is known as a "totem preparation". The action of Roman chamomile (chamaemelum nobile) is comparable to that of common chamomile, but is weaker, especially as regards its disinfectant properties. A recent study has demonstrated that chamomile is rich in antioxidants and so protects us against cell damage, while strengthening our resistance. 1-4 It is used in the treatment of gastrointestinal disorders, such as indigestion, mild spasms, bloating, flatulence and reflux. 5-19 Chamomile contributes to optimal mental and physical relaxation, which not only benefits restorative sleep, but also the proper function of the digestive system. 20-24
Bibliographical references
The health claims that feature on our website in relation to the plants contained in our products are compliant with the list of health claims awaiting final assessment by the Community authorities (cf. website of the European Commission: http://ec.europa.eu/nuhclaims/). However, they may be subject to modification following their assessment by the national competent authorities.
The health claims relating to other nutrients or substances contained in our products that feature on our site are compliant with Regulation No. 432/2012 of the Commission of 16 May 2012 which establishes a list of authorised health claims authorised in relation to food products, other than those in reference to the reduction of the risk of disease as well as community-based development and child health (cf. website of the European Commission: http://ec.europa.eu/nuhclaims/).