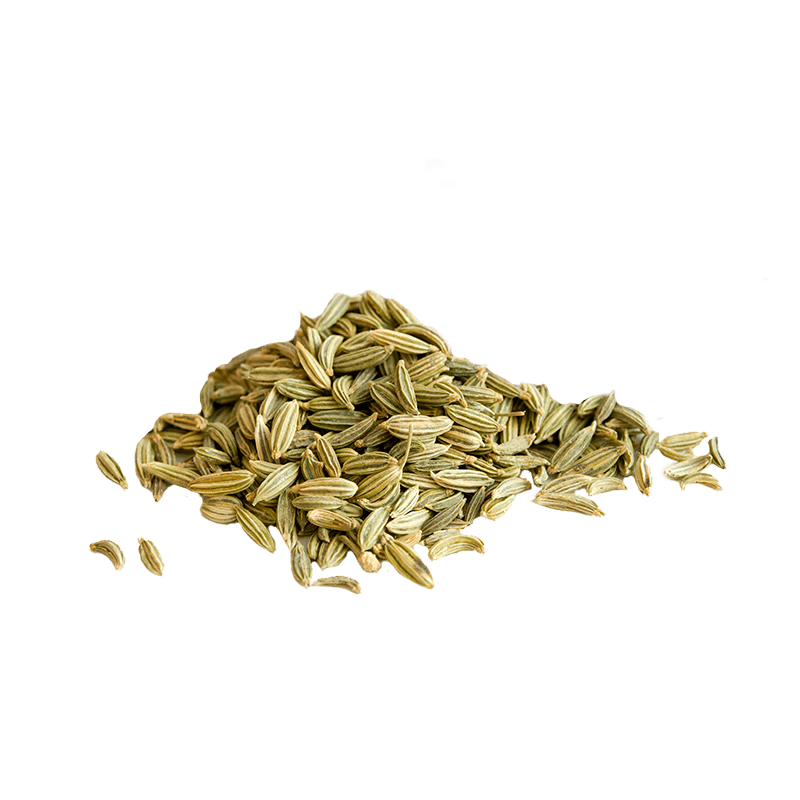 Fennel
Fennel is perennial plant belonging to the Apiaceae family. The plant can grow to a height of 2.5 metres. The stems and leaves are pinnate, filiform and bright green in colour. There is also a bronze-coloured variety. The yellow flowers arranged in umbels mildly resemble aniseed in flavour. Later on, they mature and produce elongated, grooved seeds. Plant fennel if you want to encourage rare swallowtail butterflies into your garden. The colourful caterpillars of these butterflies are fans of fennel and other umbellifers. Do not forget to cover the caterpillars with a net to protect them from birds.
Latin name
Foeniculum vulgare Mill.
Origin
Fennel originates in Asia and the Mediterranean region. It is currently grown in numerous regions around the world.
Active components
Essential oils (anethole, estragole): responsible for the typical aniseed aroma and have a carminative effect, reducing intestinal cramps and the production of gas. Anethole is a phytoestrogen, it behaves like a female hormone.
Usage
Traditionally, fennel seeds are used to treat menstrual and menopausal symptoms, and to stimulate the production of breast milk. The seeds are chewed to treat bad breath. The essential oil is often included as an ingredient in toothpaste. Fennel is also used in the preparation of cough syrup thanks to its expectorant activity and antibacterial properties. The seeds are used in Mediterranean and Oriental cooking to flavour typical dishes. Fennel is also eaten as a vegetable (the bulb at the bottom of the stalk). In phytotherapy, fennel is mainly used to stimulate expectoration 1, kidney function 1-4, and to combat flatulence and intestinal cramps 1,5,6.
Bibliographical references
10 days (150 ml)
Flavour: apple
---
ORGANIC cocktail of 9 plants to purify the body deep down Artichoke and Birch support liver function D
...
The health claims that feature on our website in relation to the plants contained in our products are compliant with the list of health claims awaiting final assessment by the Community authorities (cf. website of the European Commission: http://ec.europa.eu/nuhclaims/). However, they may be subject to modification following their assessment by the national competent authorities.
The health claims relating to other nutrients or substances contained in our products that feature on our site are compliant with Regulation No. 432/2012 of the Commission of 16 May 2012 which establishes a list of authorised health claims authorised in relation to food products, other than those in reference to the reduction of the risk of disease as well as community-based development and child health (cf. website of the European Commission: http://ec.europa.eu/nuhclaims/).