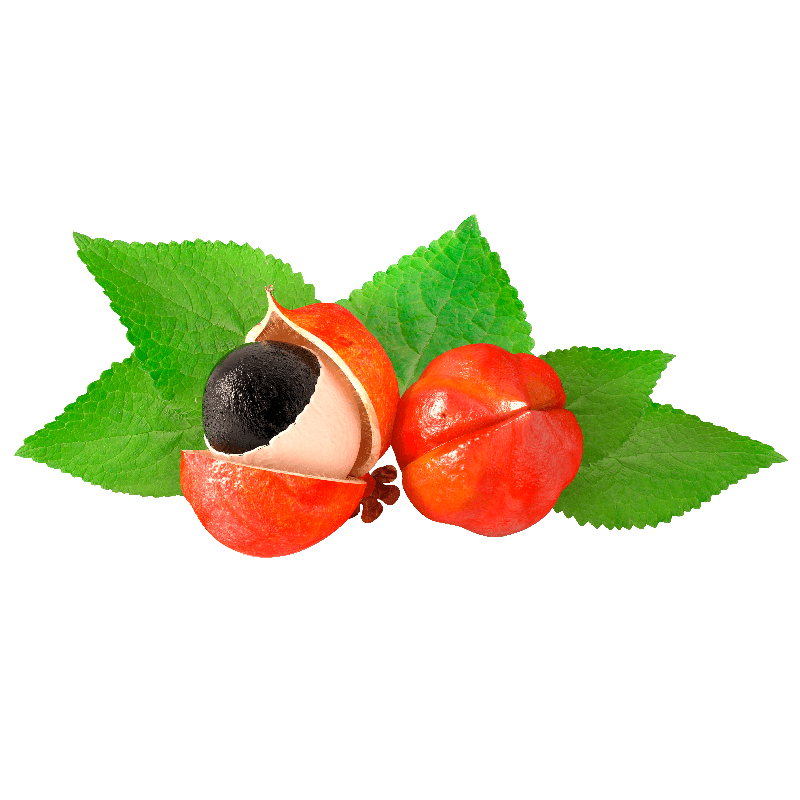 Guarana
Woody sarmentous or climbing shrub that trails along trees - Alternate leaves with tendrils and 5 oval and pointed folioles - Greenish flowers in clusters at the end of axillary peduncles - Fruit in a red membranous capsule with three lobular cavities that each contain a single seed when they reach maturity - The black, oval seed is distinguished by a white aril resembling an eye, which is why the native tribes of the Amazon referred to the ripe fruit as: The eye of the forest.
Latin name
Paullinia cupana Kunth
Used part
The toasted seeds.
Active components
Xanthine alkaloids (caffeine, theophylline, theobromine): stimulate the central nervous system and the cardiovascular system, reducing drowsiness and increasing vigilance. Guarana is the plant with the highest caffeine content.
Saponin and tannins: significantly contribute to the effects of caffeine and ensure a gentler but prolonged stimulant effect.
Usage
The use of guarana dates back to the native tribes of South America that used the seeds to combat all sorts of disorders, principally for their toning, analgaesic and appetite suppressant properties. The plant is currently used as an ingredient in numerous carbonated drinks, energy drinks and even chewing gum. Guarana is also often used as an ingredient in slimming supplements. Guarana is used as a way to enhance both mental and physical performance. 1-6
Bibliographical references
The health claims that feature on our website in relation to the plants contained in our products are compliant with the list of health claims awaiting final assessment by the Community authorities (cf. website of the European Commission: http://ec.europa.eu/nuhclaims/). However, they may be subject to modification following their assessment by the national competent authorities.
The health claims relating to other nutrients or substances contained in our products that feature on our site are compliant with Regulation No. 432/2012 of the Commission of 16 May 2012 which establishes a list of authorised health claims authorised in relation to food products, other than those in reference to the reduction of the risk of disease as well as community-based development and child health (cf. website of the European Commission: http://ec.europa.eu/nuhclaims/).