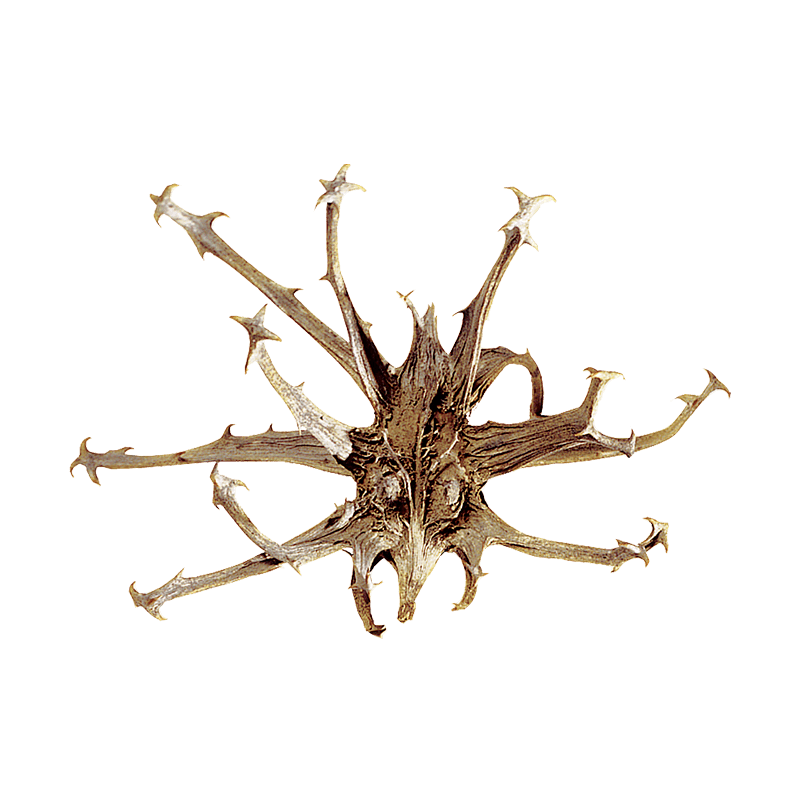 Harpagophytum or devil's claw
A perennial herbaceous plant. Its main root descends very deeply vertically into the earth and has secondary roots with bulbous tubers that can weigh up to 1.5 kg. Its light green leaves are fleshy, opposite and lobed with petioles. Its pale pink solitary trumpet shaped flowers (4 to 6 cm), evolve gradually towards a reddish purple when mature. The highly characteristic woody fruits, from 10 to 20 cm in length, rest directly on the ground and have sharp hooked spines on the sides, giving them their characteristic claw shape.
Latin name
Harpagophytum procumbens
Origin
The desert regions of South East Africa (mainly the Kalahari Desert and Namibian steppes).
Active components
Iridoids (harpagide, harpagoside, coumaroyl harpagide, procumbide): substances responsible for the anti-inflammatory and analgaesic effect, and the protection of the cartilage.
Phenolic acids: antioxidant.
Flavonoids: antioxidant.
Usage
Numerous ethics groups in Africa have traditionally used the rhizomes of devil's claw for different indications. To treat the stomach, post-natal pain, fever, loss of appetite, indigestion, to treat infectious diseases, to treat female infertility and limb pain. Devil's claw was the subject of multiple scientific studies in the 1950s, when German scientists started to become interested in traditional Namibian medicines. Since then, preparations using tubers have been used to treat painful arthroses, tendinitis, gout, lumbago, myalgia, dyspepsia, loss of appetite and as a supportive therapy for degenerative rheumatism. Until the 1990s, little was known about the specific active substances, their exact effects and their efficacy. Since then, subsequent studies have demonstrated that certain harpago extracts are effective and safe to use. The use of devil's claw is currently scientifically supported thanks to its soothing effect1-21 in the case of joint discomfort 22-23 and lower back pain.34-40 The extract of this plant can also be applied to creams or gels for external use.41-43
Bibliographical references
The health claims that feature on our website in relation to the plants contained in our products are compliant with the list of health claims awaiting final assessment by the Community authorities (cf. website of the European Commission: http://ec.europa.eu/nuhclaims/). However, they may be subject to modification following their assessment by the national competent authorities.
The health claims relating to other nutrients or substances contained in our products that feature on our site are compliant with Regulation No. 432/2012 of the Commission of 16 May 2012 which establishes a list of authorised health claims authorised in relation to food products, other than those in reference to the reduction of the risk of disease as well as community-based development and child health (cf. website of the European Commission: http://ec.europa.eu/nuhclaims/).