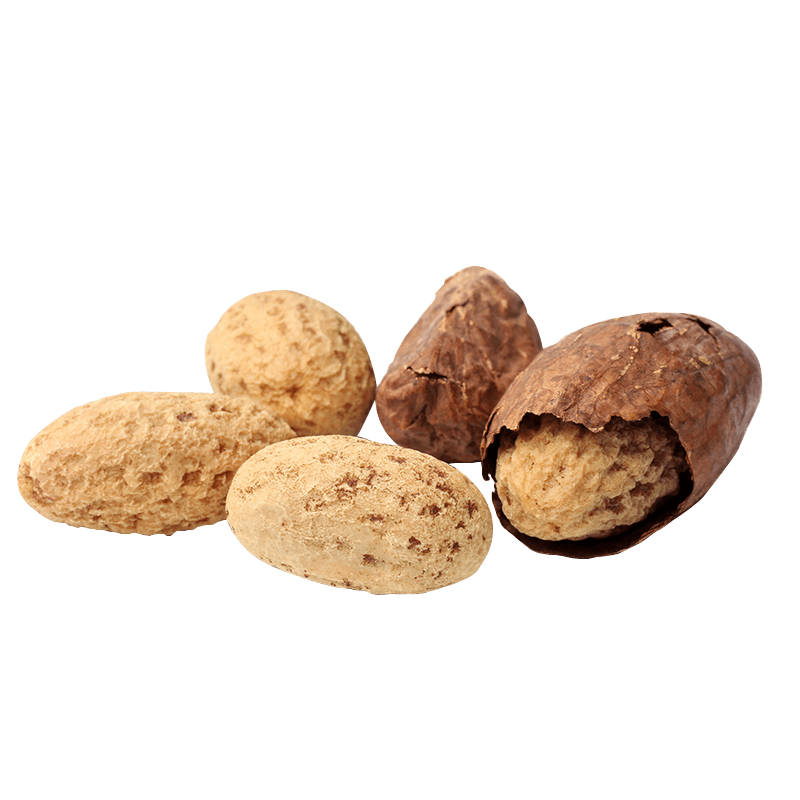 Kola
Kola nuts are the seeds produced by the kola tree, a tree that can reach a height of 10 to 15 m. Its leaves are oval with pointed tips, and dark green in colour. Its cream-coloured flowers are grouped into clusters, without petals or sepals. Its fruit is pods, woody follicles formed in a star shape, each containing 5 to 10 pinkish-white or green ovoid shaped seeds, the size of a pigeon egg (3 to 6 cm in diameter). These are called seeds, kola nuts, kola, cola or cola nuts. NB: Be careful not to confuse kola nuts with gotu kola, as they have different properties.
Latin name
Cola nitida (Vent.) Schott & Endl.
Active components
Xanthine alkaloids (caffeine, theobromine, theophylline): they act as a stimulant on the nervous system.
Tannins: have an astringent effect.
Polyphenols: antioxidants.
Usage
Kola nuts have a place in traditional, cultural and religious spiritual practices in West Africa, particularly in Nigeria. They symbolise peace and friendship. These nuts are chewed individually or in a social setting. At the end of the 1800s, an American pharmacist mixed cola extract, cocoa and sugar together with other ingredients and carbonated water, to invent the first cola soft drink. This drink has become one of the most popular drinks in the world. Traditionally, cola is used to strengthen vitality and remove the feeling of hunger, but also as an aphrodisiac and to treat morning sickness, migraines and irritation. 1-5 Today, cola nuts are used in cosmetics to combat wrinkles and to protect the skin. Cola helps to burn fat and can be used in slimming programmes.6
Bibliographical references
Community herbal monograph on Cola nitida (Vent.) Schott et Endl. and its varieties and Cola acuminata (P. Beauv.) Schott et Endl., Semen
European Medicines Agency
31 March 2011 - EMA/HMPC/722367/2010
EMA: http://www.ema.europa.eu/docs/en_GB/document_library/Herbal_-_Community_herbal_monograph/2011/04/WC500105363.pdf
The Complete German Commission E Monographs, Therapeutic Guide to Herbal Medicines.
Blumenthal M, ed.
Boston, Mass: Integrative Medicine Communications; 1998:113–114.
Caffeine supplementation and multiple sprint running performance.
Glaister M, Howatson G, Abraham CS, Lockey RA, Goodwin JE, Foley P, McInnes G.
Med Sci Sports Exerc. 2008 Oct;40(10):1835-40.
Pubmed: http://www.ncbi.nlm.nih.gov/pubmed/18799995
The influence of kolanut (cola nitida) on exploratory behaviour in rats.
Ettarh RR, Okoosi SA, Eteng MU.
Pharm Biol. 2000;38(4):281-3.
Pubmed: http://www.ncbi.nlm.nih.gov/pubmed/21214476
Behavioral effects resulting from sub-chronic treatment of rats with extract of fresh stabilized cola seeds.
Scotto G, Maillard C, Vion-Dury J, Balansard G, Jadot G.
Pharmacol Biochem Behav. 1987 Apr;26(4):841-5.
Pubmed: http://www.ncbi.nlm.nih.gov/pubmed/3602040
The comparative effects of chronic consumption of kola nut (Cola nitida) and caffeine diets on locomotor behaviour and body weights in mice.
Umoren EB, Osim EE, Udoh PB.
Niger J Physiol Sci. 2009 Jun;24(1):73-8.
Pubmed: http://www.ncbi.nlm.nih.gov/pubmed/19826468
The health claims that feature on our website in relation to the plants contained in our products are compliant with the list of health claims awaiting final assessment by the Community authorities (cf. website of the European Commission: http://ec.europa.eu/nuhclaims/). However, they may be subject to modification following their assessment by the national competent authorities.
The health claims relating to other nutrients or substances contained in our products that feature on our site are compliant with Regulation No. 432/2012 of the Commission of 16 May 2012 which establishes a list of authorised health claims authorised in relation to food products, other than those in reference to the reduction of the risk of disease as well as community-based development and child health (cf. website of the European Commission: http://ec.europa.eu/nuhclaims/).