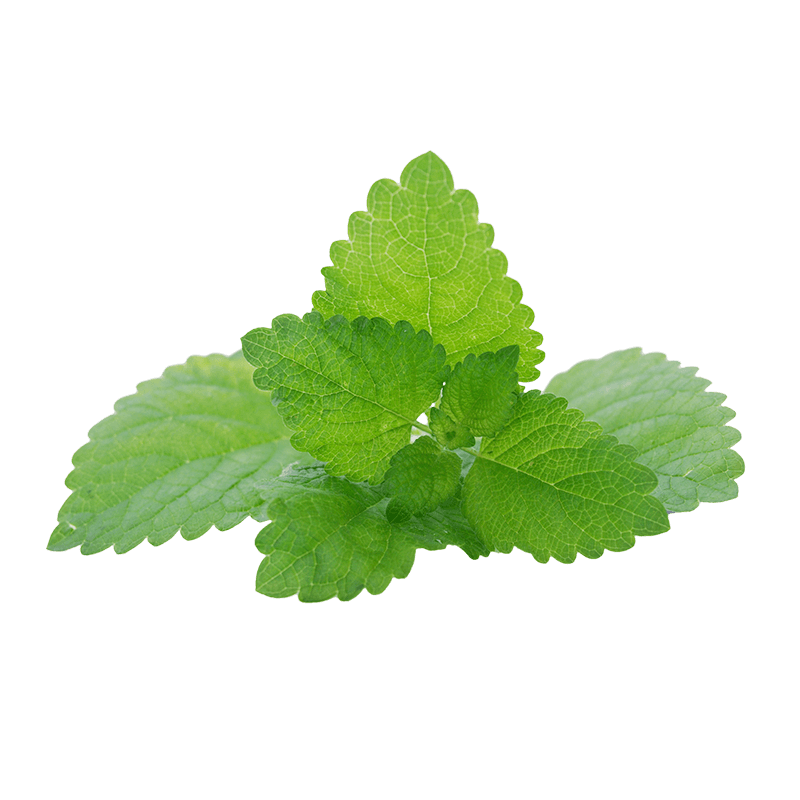 Lemon balm
A herbaceous, aromatic, perennial plant measuring 30 to 80 cm tall, with upright stems with square sections - Small, oval, embossed and serrated bright green leaves that release a gentle lemony fragrance when rubbed - White flowers with bell-shaped calyces.
Latin name
Melissa officinalis
Origin
East of the Mediterranean basin, then throughout Europe since ancient times.
Active components
Phenolic acids (rosmarinic acids): these substances with antioxidant properties are responsible for the anxiolytic and calming effect.
Essential oil: responsible for the aroma and contributes to the antioxidant action.
Flavonoids (apigenin): antioxidant.
Usage
The fresh or dried leaves can be used to prepare a herbal tea, and can be blended with black tea. Lemon balm is used as seasoning in numerous recipes such as fish, soup, sauces and omelettes. It has a natural preservative action. The essential oil is sometimes used to repel mosquitoes and other insects. Thanks to its antioxidant action, lemon balm protects the tissues against oxidative stress. 1-6What makes the plant interesting is its calming effect in the case of stress. It supports good cognitive function, well-being and contributes to restorative sleep. 7-14It is also used to support digestion and relieve intestinal cramps. 15-16
Bibliographical references
The health claims that feature on our website in relation to the plants contained in our products are compliant with the list of health claims awaiting final assessment by the Community authorities (cf. website of the European Commission: http://ec.europa.eu/nuhclaims/). However, they may be subject to modification following their assessment by the national competent authorities.
The health claims relating to other nutrients or substances contained in our products that feature on our site are compliant with Regulation No. 432/2012 of the Commission of 16 May 2012 which establishes a list of authorised health claims authorised in relation to food products, other than those in reference to the reduction of the risk of disease as well as community-based development and child health (cf. website of the European Commission: http://ec.europa.eu/nuhclaims/).