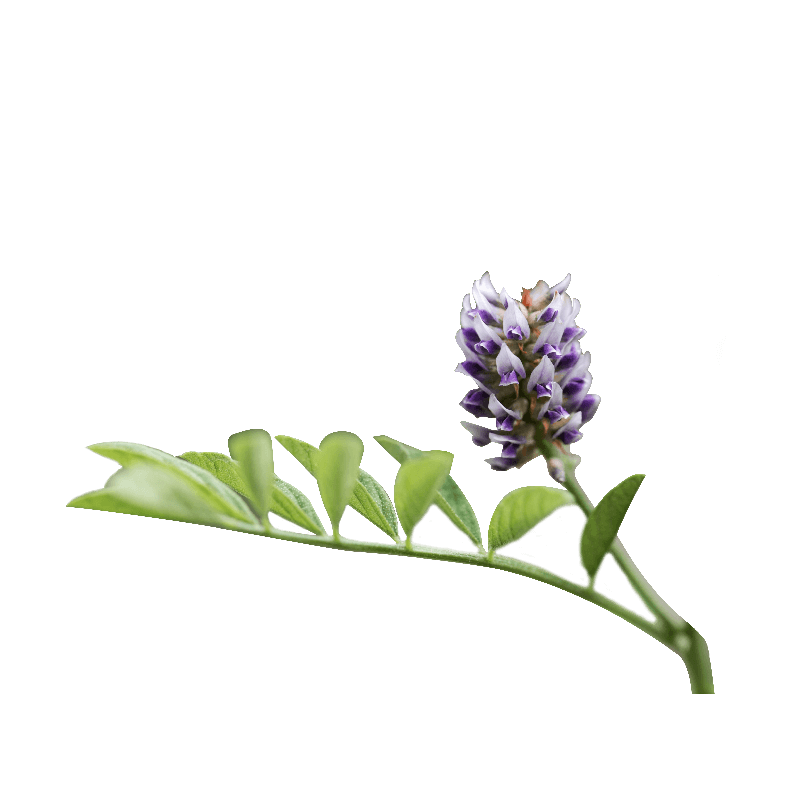 Liquorice
A perennial plant measuring between 1 and 1.5 metres tall. Its roots form aromatic rhizomes. Its large leaves are perennial, measuring 7 to 15 centimetres in length, and are made up of 9 to 17 folioles. Its small purple flowers, of one centimetre in diameter, are arranged in an inflorescence. Its fruit, in flat pods of 2 to 3 cm long, contains numerous seeds.
Latin name
Glycyrrhiza glabra L.
Origin
Southern Europe and Asia.
Active components
Saponins (glycyrrhizinic acid): anti-inflammatory action.
Flavonoids: antioxidant and anti-inflammatory action.
Bitter principles: promote digestion.
Usage
Liquorice is described in ancient Arabic writing as a means of soothing a cough and congestion. It is traditionally used to promote digestion (particularly for people with sensitive digestion) and to alleviate stomach cramps. In Ayurvedic medicine, liquorice has been considered a remedy for its anti-inflammatory, laxative and expectorant properties. Nowadays, liquorice is used in prophylaxis and the treatment of dyspepsia. The active ingredients support the normal function of the stomach mucosa and the intestinal wall. 1-8
Bibliographical references
The health claims that feature on our website in relation to the plants contained in our products are compliant with the list of health claims awaiting final assessment by the Community authorities (cf. website of the European Commission: http://ec.europa.eu/nuhclaims/). However, they may be subject to modification following their assessment by the national competent authorities.
The health claims relating to other nutrients or substances contained in our products that feature on our site are compliant with Regulation No. 432/2012 of the Commission of 16 May 2012 which establishes a list of authorised health claims authorised in relation to food products, other than those in reference to the reduction of the risk of disease as well as community-based development and child health (cf. website of the European Commission: http://ec.europa.eu/nuhclaims/).