Milk thistle
A large, robust, biennial plant, often exceeding 1 metre in height - Large glossy pale green leaves, pinnately lobed and rippled, with very sharp, yellow-tipped spines around the edges and with a multitude of white veins on the obverse, giving the impression that the leaf is stained with milk. The capitula are often single, or in groups, surrounded by large curved bracts, with sharp tips, each bract also edged with small spines - Tubular, purple to violet-coloured flowers with five lobes - Glossy black fruits (achenes), sometimes marbled with yellow, sit on top of a denticulated basal ring.
Latin name
Silybum marianum (L.) Gaertn.
Origin
Favours dry and sunny locations and acidic soil - Very common in the Mediterranean basin and almost absent north of the Loire (with the exception of the Atlantic coast). Never found above 700m altitude.
Active components
Lignans (Silymarin): responsible for the strong hepatoprotective action, regenerative effects on cells and the detoxifying effect.
Flavonoids: contribute to the antioxidant effect.
Usage
The spiny leaves can be cooked like spinach. Even the stems can be cooked similarly to rhubarb compote, after being soaked in water to remove the bitter taste. When pressed, the seeds provide an exquisite edible oil. Since the substances responsible for the protection of the liver are not hydrosoluble, it is unwise to use the seeds or other parts of the plants to make an infusion. When it comes to liver health, milk thistle is the number one plant to choose. First of all, it is a powerful antioxidant that protects the cells of the liver from oxidative stress. 1-7 By stimulating the production of bile, it acts as a detoxifying and digestive agent. 8
Bibliographical references
60 tablets (3/day)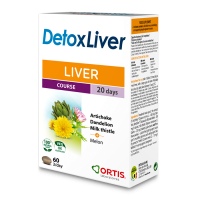 ---
Artichoke & Dandelion support detoxification, maintain the liver in a healthy state and facilitate diges
...
The health claims that feature on our website in relation to the plants contained in our products are compliant with the list of health claims awaiting final assessment by the Community authorities (cf. website of the European Commission: http://ec.europa.eu/nuhclaims/). However, they may be subject to modification following their assessment by the national competent authorities.
The health claims relating to other nutrients or substances contained in our products that feature on our site are compliant with Regulation No. 432/2012 of the Commission of 16 May 2012 which establishes a list of authorised health claims authorised in relation to food products, other than those in reference to the reduction of the risk of disease as well as community-based development and child health (cf. website of the European Commission: http://ec.europa.eu/nuhclaims/).