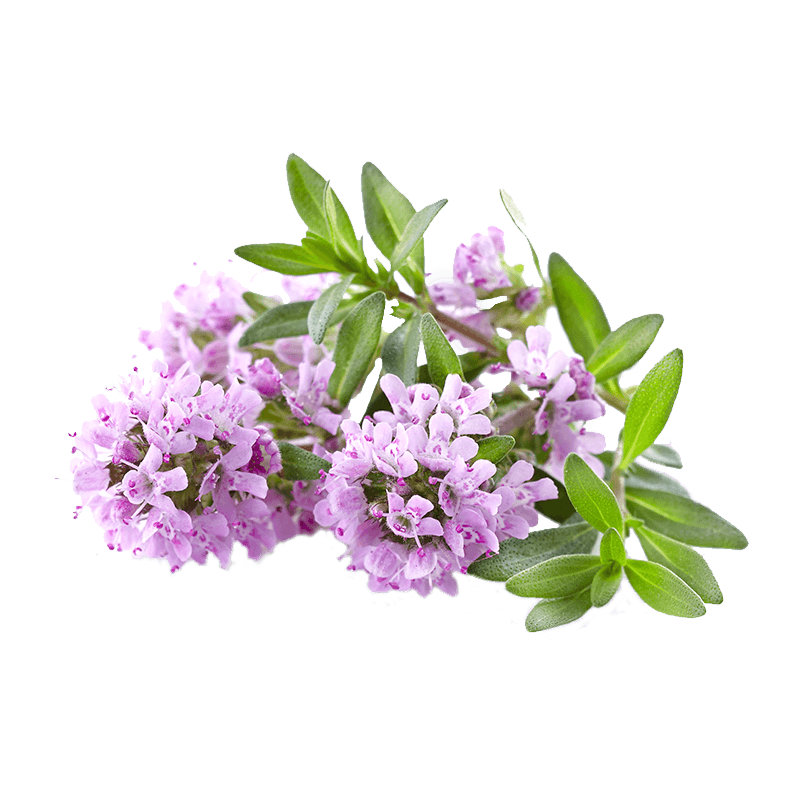 Satureioides Thyme
Sub-shrub of 10 to 30 cm, perennial - Highly aromatic - Woody, twisted stems with ascending branches - Small, opposite, lance-shaped or linear leaves, rolled at the edges - Pink or whitish bilabiate flowers of 1/2 cm in size grouped into glomerules forming a sort of flower head that may be tighter or looser in density.
Latin name
Thymus satureioides Cosson
Origin
This variety of thyme, which originates in North Africa, grows in stoney, rocky and drier soils.
Used part
The aerial parts of the plant.
Active components
Essential oil (borneol, carvacrol, thymol): its inhibiting action on inflammatory mediators is thanks to its borneol content.
Flavonoids: these substances are antioxidants, but in the case of thyme, they also have an antispasmodic effect.
Tannins: have an astringent effect and contribute to the antiseptic properties.
Usage
Thyme with savoury leaves is a plant that has mainly been used in Moroccan traditional medicine: for coughs, bronchitis, rheumatism and general inflammation. Given its specific composition, this essential oil is particularly used externally and has a pronounced analgaesic effect 1,2 and broad-spectrum antibacterial action. 3-5
Bibliographical references
The health claims that feature on our website in relation to the plants contained in our products are compliant with the list of health claims awaiting final assessment by the Community authorities (cf. website of the European Commission: http://ec.europa.eu/nuhclaims/). However, they may be subject to modification following their assessment by the national competent authorities.
The health claims relating to other nutrients or substances contained in our products that feature on our site are compliant with Regulation No. 432/2012 of the Commission of 16 May 2012 which establishes a list of authorised health claims authorised in relation to food products, other than those in reference to the reduction of the risk of disease as well as community-based development and child health (cf. website of the European Commission: http://ec.europa.eu/nuhclaims/).